August 8th, 2011
Comments off
08.08.2011
08.09.2011 edited/updated
08.10.2011 market update from 08-09-2011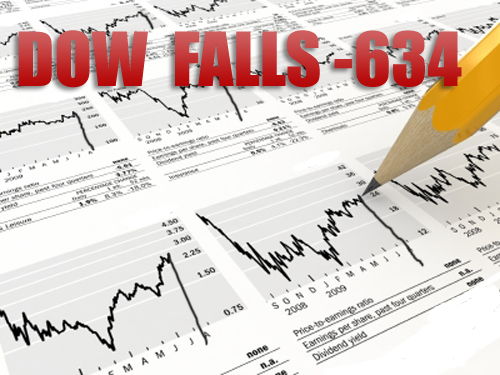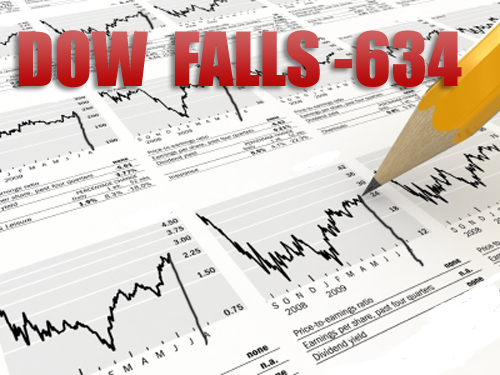 Market Report: Dow Falls 634 in a Near Perfect Storm
Investor Education Series: Volume II. Issue I.
Original article written by Net Advisor™
What Happened?
The Dow Jones Industrial Average had its 6th biggest negative point close in the last century on Monday, August 8, 2011. The DJIA closed at the low of the day down -634.76 to 10,809.75 or -5.55%. The tech heavy NASDAQ fell a whopping -174.72 or -6.9%. The popular broad-market index, the S&P 500 fell -79.92 or -6.66% to 1,119.46.
Stocks initially reacted to Standard and Poor's downgrade of U.S. credit, the first downgrade ever. That news came late after the market close on Friday, August 5, 2011.
The second hit came late Sunday 08-07-2011 where S&P's Managing Director John Chambers said that the U.S. could be subject to another downgrade if it doesn't get its financial house in order – soon.
Next in the mix was Europe's ongoing debt problems, especially in Italy whose economy is twice the size of the other EU problem countries such as Portugal, Ireland, Greece, and Spain combined. The problem here is that the European Central Bank (ECB) just doesn't have the money to bailout Italy even if it wanted to (Source: Wall Street Journal).
Lack of buying conviction also contributed to the down mix as investors and the public seem concerned about another economic slowdown. Small investors have reportedly been putting money in zero interest cash accounts or speculating in the commodities re-boom such as gold and silver.
Chart: Bank of America
[wikichart align="left" ticker="BAC" showannotations="true" livequote="true" rollingdate="10 years" width="565″ height="260″]
Next we noticed during the trading day that Bank of America's (NYSE: BAC) stock was falling faster than what seemed to be a bigger than normal concern. In short time, Bank of America's stock hit a Technical Crash falling 20.32% at the close. BAC has three big issues, really five.
1. BAC received another analyst downgrade, the third one in two trading days (Source: The Street.com).
2. BAC was sued by AIG in New York for alleged mortgage-related issues. AIG is seeking $10 Billion (Source: Bloomberg).
3. If that wasn't enough, BAC also was hit with market rumors over concern that it may need to increase its capital (Source: CNBC). In other words, this is a nice way of saying that the bank might fail and they better start coming up with a game plan to increase their capital in the hopefully unlikely event of a bankruptcy. A default by BAC would make the September 2008 Lehman bankruptcy look like a casual walk in the park.
4. We also caught a wire report that said:
"CDS [Credit Default Swaps = an insurance policy purchased to protect against risk of (in this case) a bank default] on Bank of America Hit 310 BP (basis points), 51% wider than (last) Friday (08-05-2011)."

— NetAdvisor™ (report from subscriber-based wire service)
This suggests that people or rather (institutions) have been buying up insurance to protect themselves in the event that BAC should run into serious financial problems.
Bank of America was actively traded with 679 Million shares exchanging hands. This was three times (or 300% more than) its 3-month average daily volume, and was the most active stock traded on any exchange all day.
5. Bank of America owns Countrywide Mortgage – the largest mortgage lender in the USA (after the U.S. government now) and Merrill Lynch the (former) largest broker-dealer in the U.S. Both have plagued the bank with problems (here is a recent short list of B of A's recent problems from Jan-July 2011: Article 1, Article 2, Article 3, Article 4, Article 5, Article 6). The bank also said last May 9, 2011 that is would seek to cut its $850 Billion loan portfolio of bad mortgages by half over the next three years (Source: Reuters).
B of A's Financial Problems are Not New
Net Advisor™ posted numerous bearish comments on Bank of America before the bank's problems become well known. Net Advisor™ stated in 2007 that Countrywide (CFC) and Merrill Lynch (MER) were ranked #1 and #2 respectively as "currently in financial trouble." Also in 2007 Net Advisor™ posted a laundry list of companies with negative outlooks that included Bank of America, Countrywide and Merrill Lynch all at the top of the list.
Here are a few more specific answers to questions that Net Advisor™ addressed about Bank of America from 2008 to 2009:
(1) "What do you think of the Bank of America stock?" (Posted 2008)
(2) "What are your taughts about the merrill lynch and citigroup stock?" (Posted 2008)
(3) "Will BAC stock reach 30 dollars a share around dec 2009?" (Posted 2009)
"I thought it was a mistake for BAC to buy Countrywide Mortgage (CFC). BAC could have bought CFC for 0, and MER for a few bucks. The result of this lunacy has done nothing to but to send the largest USA bank in the tank once again."
Bank of America was not the only reason for the market to fall; it was just one part, but an important part of this overall equation.
More Fuel for the Fire: POTUS Wrong Speech, Wrong Time
The next wave started as a little "hope" as President Obama gave another speech on the morning of the market sell-off, August 8, 2011. The Dow had recovered some earlier losses thinking the president would say anything to stir confidence back into the recent fragile market. The Dow was down 2.5% before Obama made his speech. When he was finished and by the close the Dow more than doubled its losses for the day, down 5.5% (Source: BBC News).

President Obama 08.08.2011 Speech: Video Link

Obama just rehashed the same old mantra about raising taxes on the wealthy and business, fixing roads and bridges, putting construction people (or anyone) to work (which has not worked), inferring blame to Republicans and Tea Party resisting higher taxes thinking that is why our economy has problems, all not correct.
Obama believes that "disruptions" in Europe (which have been ongoing for over a year), Japan (referring to their earthquake(s) and a nasty Tsunami); and blaming the Middle-East for causing the recent stock market problems.
Obama's Middle-East comment was referring to protestors in Libya whom he, without Congressional approval is also supporting a war against Gaddafi in Libya. The President is required under Title 50 of U.S.C. Chapter 33, §1451-1548 of the War Powers Resolution to notify and get Congressional approval for any war, especially since Obama's war actions were not based on Constitutional authority under § 1541 (c)(1)(2)(3).
The President chanted other rhetoric in what was arguably one of his worst speeches at a time where leadership was being sought. The President also chastised S&P's downgrade of U.S. credit rating. Obama said the 'U.S. will always be AAA no matter what some agency might say.' Well a lot of people once believed that the world was flat, and eventually most of U.S. knows that isn't true either.
"No matter what some agency may say, we have always been and always will be a triple-A country."

— Barack Obama, 08-08-2011 Speech. (Source: Telegraph.UK)
It's always great to chant how great America is, and yes we have great people and a great country. The fact that we need to deal with right now is that the U.S. credit rating was downgraded under Obama's watch – the first time in U.S. history, and it was not due to the "rich" not paying enough taxes, it was due to Obama's massive deficit spending and a lack of a real plan to cut it as he promised on February 23, 2009 (please watch the following video):
Obama Speech: February 23, 2009: Video Link

After 3 Years, the Obama Administration Doesn't Seem to Get it
Our view as we saw market reaction to the August 8, 2011 speech was that the Obama Administration just doesn't get it, and is in denial of the risks of government's record deficit spending.
The stock market didn't see leadership in this August 8th speech as it was "hoping" for. It saw more regulation, more taxes and more government spending. That was the wrong message to send to the market, hence the Dow doubled its losses after Obama's speech.
On the Bright Side – Sort of?
Oil prices have plunged – however so have stocks. The bright side is that gas prices should come down soon if oil prices stay low. Oil prices have fallen from about $100 barrel in mid-July to under $85 barrel on 08-08-2011 (Source: CNN). So we may have cheaper gas in the near-term, however one's retirement account is paying for that with lower stock prices. We published an article of a strategy of how to handle especially volatile periods in the stock market, and is geared toward long-term investment planning – dollar cost averaging.
Stock Market Already in a Technical Break-Down BEFORE the Recent Plunge(s)
Net Advisor™ analyzed Friday's (08-05-2011) S&P credit downgrade and came up with a scenario for the market's Monday, 08-07-2011 reaction. Since the S&P news came well after the market close, there was probably little anyone could do at this point.
However, those following Net Advisor™'s stock market tweets, could have also seen the writing on the wall as Net Advisor™ repeatedly flagged caution about the S&P 500 breaking down since Thursday, July 28, 2011.
Net Advisor™'s chart shows that the S&P 500 (NYSE: SPY) triggered a long-term "Sell" signal on July 26, 2011 and began discussing this publicly two days later:
Net Advisor™ Flagged Public Caution About the Stock Market On Twitter:

(1) TUE August 2, 2011: "#stocks – #Dow tanked -265.87 @ 11,866.62 S&P 500 Index broke below 200 day moving average today. Funds sell to raise cash, economy concerns."

(2) TUE August 2, 2011: "#stocks – S&P 500 Day 5 under 50-day moving avr. = negative trend…&broke 200 MA (moving average)."

(3) TUE August 2, 2011: "#stock watch – break below 1280 on S&P 500 Index suggest next move about 1226.18 per my chart. Currently 1259.80 on the S&P."

(4) TUE August 2, 2011: "#stocks we have bounced 2ce off these current S&P levels in Mar & June 2011, not seeing a bounce this time, momentum seems to push lower."

(5) TUE August 2, 2011: "#stocks #commodities – only trade that worked same day was short silver +31% (options). market can't fall dn 4ever expect rebound 1-3 days." [market rebounded on that 3rd day after Monday's 08-08-11 sell-off.]

(6) MON August 1, 2011: "#stocks – S&P 500 Day 4 under 50-day moving avr. = negative trend…"

(7) FRI July 29, 2011: "#stocks – S&P 500 Day 3 under 50-day moving avr. = negative trend /// more…"

(8) THURS July 28, 2011: "#stocks – S&P 500 Day 2 under 50-day moving avr. = negative trend http://goo.gl/0jga3 Chart kicked a "sell" on the Index yest. Watch closely." [Typo Correction: Chart kicked a S&P 500 "sell signal" on 07-26-2011, not 07-27-2011 as posted here.]

(9) THURS July 28, 2011: "#stocks – S&P 500 broke just below 50-day moving average. Something to watch over the next few days or so. S&P closed 1304.89 -27.05 or 2%."

Follow NetAdvisor™ on Twitter. Tweets can also be seen by adding us on Facebook. View Net Advisor™'s Bio.
Net Advisor™'s 08.07.2011 Forecast:
"…a 457 to 687 point drop or 4 to 6% drop in the Dow on Monday 08-08-11" (Source: Net Advisor™'s 08.07.2011 Update).
Result:
The Dow fell -634, at the high-end of the forecast (Dow Data Movement Source: ABC News).
Forecast:
"The Volatility Index (the VIX) could easily skyrocket to a new 52-week high around 40 or higher. If the VIX climbs to say 43, from Friday's 08-05-2011 close at 32, that would be a 35% jump" (Source: 08.07.2011 Update).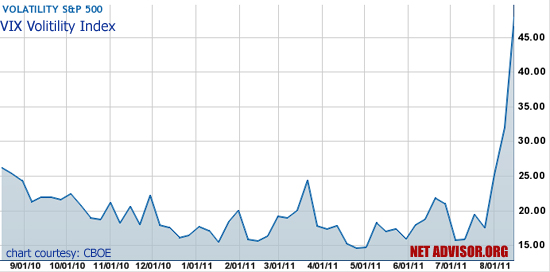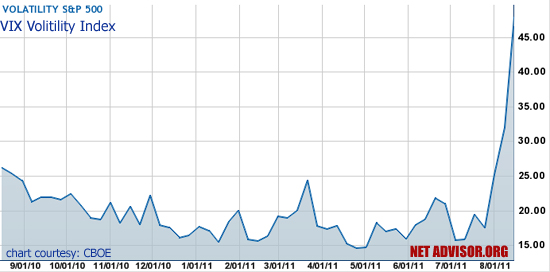 Result:
The VIX soared to a 52-week record high and hit $48.00 or up 50% in just minutes in afterhours trading (Source: 08.08.2011 Twitter Update; Secondary source: Forbes).
Net Advisor™ normally doesn't go into making market predictions here but might at times. Market discussions can also be found free on Twitter. There are plenty of websites that will charge $100's a month to seminars charging up to $5,000 or more and still won't be able to give you this information. NetAdvisor.org is a non-profit education media organization (about us).
What's Next?
Net Advisor™ continues to argue that the market is oversold and at some-point maybe soon, the market should have a technical rebound. Even after a market rally, later on this year say by September to November 2011 the markets could perk up (or rather fall again) if Congress and the President fail to get their financial house in order, and that's doesn't mean more taxes and more spending. It means entitlement reform, real deficit spending cuts and tax reform. Tax reform does not mean more taxes, it means cutting corporate loopholes, cutting government subsides to all corporations, not penalizing (double taxing) companies if they bring money back to America from overseas profits. We'll cover more on this subject again when the debates begin.
08.09.2011 Update:________________________________________________
Stock Market Summary:
The DOW rebounds moving up sharply then -200 to climb over +600 from the lows to close +429.69 at 11,239.77
We've have been discussing on twitter and in recent articles on (NetAdvisor.org) that stocks technically have been oversold giving a technical reason to buy.
Massive short covering also contributed to the run where short sellers bought back positions pushing the market higher.
The FED also helped the rally.
The FED intends to keep interest rates low through 2013 (post 2012 election coincidentally) – an implied QE3.
Gold climbed sharply +$70 but sold off and closed +$26 on the back of Treasuries selling off and money moving into stocks.
Silver dropped sharply as amateur speculators who had been buying silver as a cheaper alternative to gold exit this overcrowded trade. The Silver ETF (SLV) closed down -4.35% on heavy than normal volume.
This update was also posted to Twitter (extended via TwitLonger) on 08-09-2011.
08.10.2011 Update:________________________________________________
The Dow had a 710 point trade range from the low to the high on 0-8-09-2011.
__________________________________________________________________________
Disclosure: Net Advisor™ and or clients were short Citibank and Bank of America on 08-08-2011 via long put options. Both trades were closed before publishing this report.
Credits:
Headline Dow Graphic: Modified public domain image by netadvisor.org staff
Bank of America Graphic Courtesy: Wikinvest
VIX Graphic Courtesy: CBOE. Modified text by netadvisor.org staff
Obama February 23, 2009 Speech, Video Courtesy: Associated Press (AP)
Obama August 8, 2011 Speech, Video Courtesy: NBC
Images, graphics and video may be subject to copyright.
Original Content Copyright © 2011 Net Advisor™ All Rights Reserved.
Please be reminded that, "The information provided herein should not be deemed as investment, tax, or legal advice. Netadvisor.org, author of articles and general published work (altogether and from hereon and herein referred to as "we" and "us" and "our" ) are not a tax or legal advisor, and we do not hold ourselves out to the general public as a financial advisor. Always seek a professional qualified advisor for any such advice sought."
Legal Disclaimer
__________________________________________________________________________