Deficit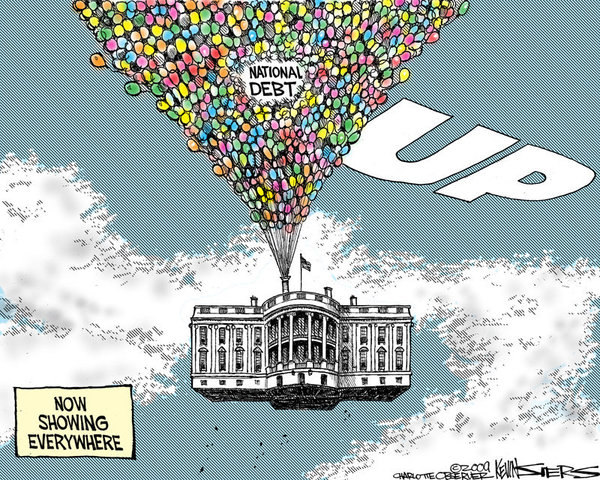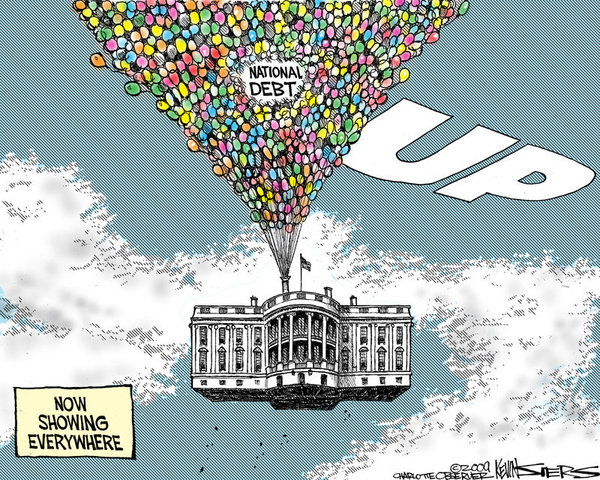 This topic focuses on issues relating to the U.S. Deficit.
We have written more articles on the deficit than any other single topic. Why? Can you imagine owing money that you could never repay? Now pretend you live in a country where the leadership thinks they can borrow and spend and legally make its citizens pay the bills? Welcome to the United States.
Debt can ruin a person, a business and a country if not kept in check. Spending money one does not have does not solve the problem.
This is our page for all our published articles and reports on the U.S. deficit.
2017
[34] 2017.01.21 Pres. Obama Leaves Americans with Lower Income and Record Debt
2016
[33] 2016.10.09 U.S. Economy – Are You Really Better Off? (Lots of Charts/ Incl. Debt)
[32] 2016.02.21 Propaganda Exposed: U.S. National Debt Up 79 Percent Under Obama
2015
[31] 2015.12.21 Congress is Finally United – Against the People
[30] 2015.05.22 Fact Check: Is Health Care Really Driving Down the Deficit?
2013
[29] 2013.12.31 Facts About the Ryan-Murray Budget Agreement
[28] 2013.10.16 STOP the FEAR: The Truth About the Debt Ceiling
[27] 2013.09.19 U.S. National Debt Grew By 58% Under Obama in Less Than 5 Years
[26] 2013.08.30 $1 Trillion Farm Bill is All About Government Welfare
[25] 2013.04.04 FAA Budget up 150%, Air-traffic Declines, So We Need More Spending?
[24] 2013.04.04 Global Debt-to-GDP Dangerous as U.S. Debt Approaches $17 Trillion
[23] 2013.02.28 Is the Obama Admin Scaring Americans to Debt? – The Sequester
[22] 2013.01.12 'Fiscal Cliff' Deal Adds $4 Trillion to the Deficit
2012
[21] 2012.12.19 Instant Analysis of Obama's 2013 Spending Plan
[20] 2012.09.15 Egan-Jones Downgrades U.S. Credit Rating After FED Stimulus
[19] 2012.09.11 Moody's Warns of U.S. Debt Downgrade – For the 5th Time
[18] 2012.08.25 Obama Deficit ALREADY Exceeds 8 Years of Bush in Half the Time
[17] 2012.03.14 U.S. Deficit Hits All Time Record in February
2011
[16] 2011.08.02 Countdown to Deficit Cuts – But Still a Deficit: Update V
[15] 2011.07.30 Countdown to Deficit Cuts – But Still a Deficit: Update IV
[14] 2011.07.20 Countdown to Deficit Cuts – But Still a Deficit: Update III
[13] 2011.07.13 Countdown to Deficit Cuts – But Still a Deficit: UPDATE II
[12] 2011.07.08 Countdown to Deficit Cuts – But Still a Deficit
[11] 2011.08.06 S&P Downgrades U.S. Debt Rating
[10] 2011.04.09 The Truth About the Budget Cuts
[09] 2011.04.08 Paranoia and Doomsday Used to Argue More Government Debt
[08] 2011.02.16 Obama's Proposed $1.1 Trillion Budget Cut, Not "Deficit Reduction"
[07] 2011.01.26 Obama Deficit to Exceed 8 Years of Bush in Half the Time
[06] 2011.01.13 The Great Train Wreck?
2010
[05] 2010.05.18 The Biggest Risk to U.S. Recovery is the U.S. Government
[04] 2010.05.17 Past President Suggests More Illegals and Taxes Can Solve the Deficit
[03] 2010.02.01 How Expensive "Change" Can Be
[02] 2010.01.30 President Obama's "Change" Will Cost You $9.3 Trillion+ Interest
[01] 2010.01.26 Obama Math: Borrowing Less is Saving?
____________________________________________________________________
image credit © Kevin Siers
original content copyright © NetAdvisor.org® All Rights Reserved.
NetAdvisor.org® is a non-profit organization providing public education and analysis primarily on the U.S. financial markets, personal finance and analysis with a transparent look into U.S. public policy. We also perform and report on financial investigations to help protect the public interest. Read More.
____________________________________________________________________