Whistle-blower: Obama Admin Scrubbed Suspected Terrorists From DHS Database

by Net Advisor™
WASHINGTON DC. We first helped bring this story to social media back in February 2016. We didn't write the original story, it was published in The Hill, a Washington DC newspaper covering mostly DC-related politics.
#DHS 15yr Employee: Obama Admin Ordered Homeland Security to "SCRUB Records of Muslims with Terror Ties" https://t.co/gJcS2pmo7T #GOPDebate

— NetAdvisor™ (@NetAdvisor) February 7, 2016
The most extensive coverage that exposed this story was published by a Freedom of Information Act (FOIA) lawsuit filed against the Department of Homeland Security on February 13, 2015. The case is: Judicial Watch v Department of Homeland Security (Case# 1-15-cv-00222).
The Obama Administration scrubbed DHS' database of suspected Islamic terrorists.
"Judicial Watch announced today that it obtained 183 pages of documents from the Department of Homeland Security revealing that the Obama administration scrubbed the law enforcement agency's "Terrorist Screening Database" in order to protect what it considered the civil rights of suspected Islamic terrorist groups."

"The documents appear to confirm charges that Obama administration changes created a massive "hands off" list. Removed data from the terrorist watch list could have helped prevent the San Bernardino terrorist attack."

— Source: Judicial Watch (PDF)
U.S. Inspector General Report (redacted and declassified) (183pps PDF)
Why would a U.S. President want to wipe out suspected terrorists from a government's data base? This kind of makes one wonder which side is President Obama on? As President Obama's Secretary of State John Kerry said, he'd rather just have the media report on it at all (Video).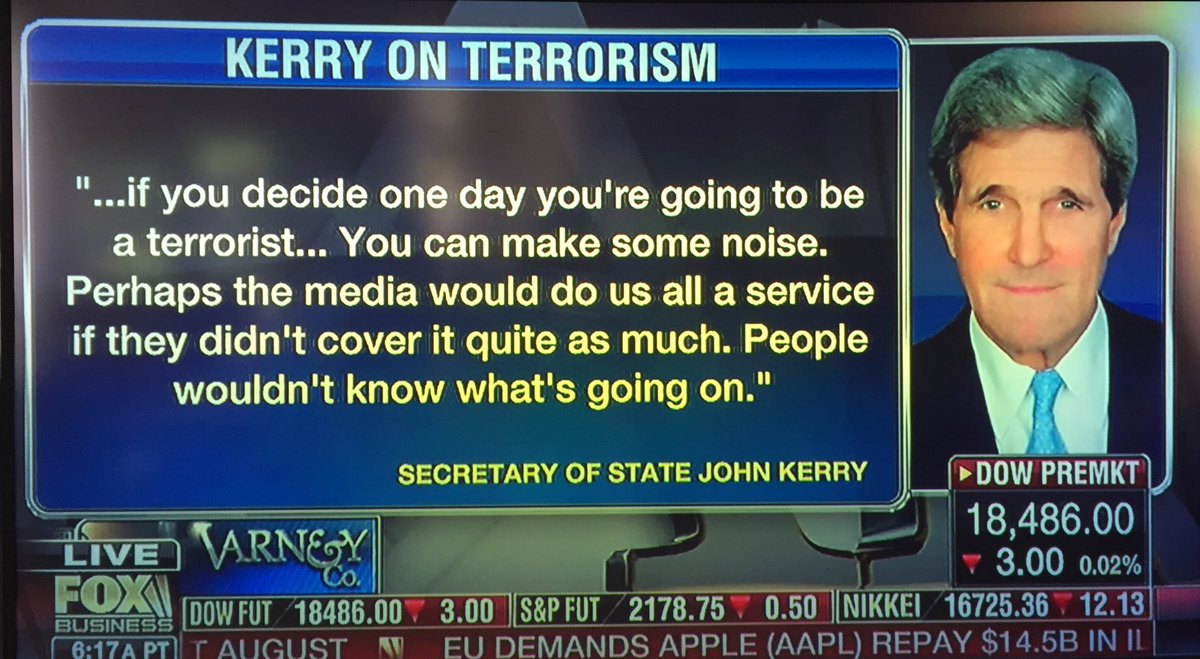 It appears the Obama Admin thought they could just delete files from a computer and suddenly terrorists would simply go away. And if only the media would stop informing the world by exposing such radicals, then we could all live in a Fantasyland – together (until the terrorists show up to kill you?)
As it turns out, there may be an internal cover-up. Democratic congressman found that there were seventy-two people who work at the Department of Homeland Security who are on the terror-watch list.
"…we did an investigation — the inspector General did — of the Department of Homeland Security, and they had 72 individuals that were on the terrorist watch list that were actually working at the Department of Homeland Security," Lynch told Boston Public Radio hosts Jim Braude and Margery Eagan. "The director had to resign because of that."

— Sources: NewsMax (PDF) and WGBH Boston (PDF) (a NPR Station).
So if you are a terrorist, or terrorist sympathizer and worked inside the Obama Administration, guess it would be prudent for them to wipe suspected terrorist names off their list?
_______________________________________________________________________
original content copyright © 2016 NetAdvisor.org®
Source Data: © Judicial Watch, court records, U.S. Inspector General FOIA release via Judicial Watch. Graphic © Fox Business News. Video presented by Western Journalism.
NetAdvisor.org® is a non-profit organization providing public education and analysis primarily on the U.S. financial markets, personal finance and analysis with a transparent look into U.S. public policy. We also perform and report on financial investigations to help protect the public interest. Read More.
______________________________________________________________________