Web Traffic Report: Sep 2013 (112) Countries Visited NetAdvisor.org®
10.09.2013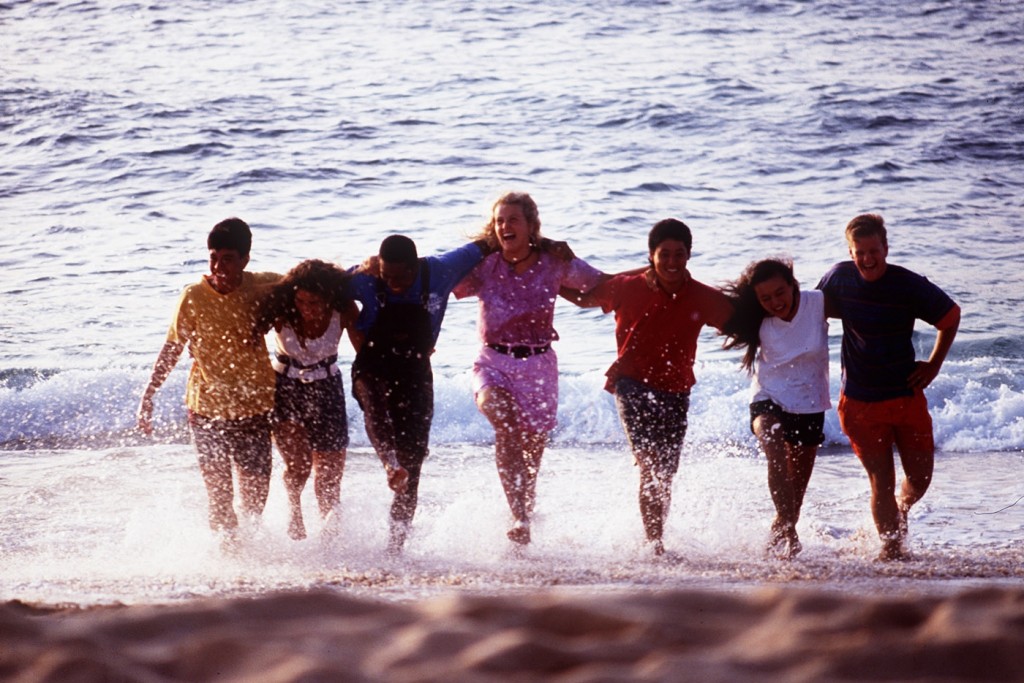 Web Traffic Report: Sep 2013 (112) Countries Visited NetAdvisor.org®
by NetAdvisor.org® Staff
In August 2013, we (manually) sampled just fifty (50) random pages of over 1,200 pages of our web traffic. We found of those 50 pages there were 44 unique countries that visited the NetAdvisor.org® website.
Today, we went a little deeper and used a third-party computer analysis of all the web traffic for the month of September 2013. The report showed that there were 112 unique countries visiting the website. We found that all year thus far, international traffic was consistently at least double than our manual estimate of 44 unique countries, and typically has been in excess of 100 unique country visits.
Since this site began, all of our traffic is organic, meaning we don't pay search engines or other parties to entice people to come visit the site. Since we are a non-profit org, and offering our content for free, we're not overly concerned about paid traffic. We would like to think that if we can create interest and value for the readers, then the traffic will come.
We are publishing a sample summary of our global traffic here.
[1] Visual Graphic: Countries in the Order of Highest Number of Visits to NetAdvisor.org®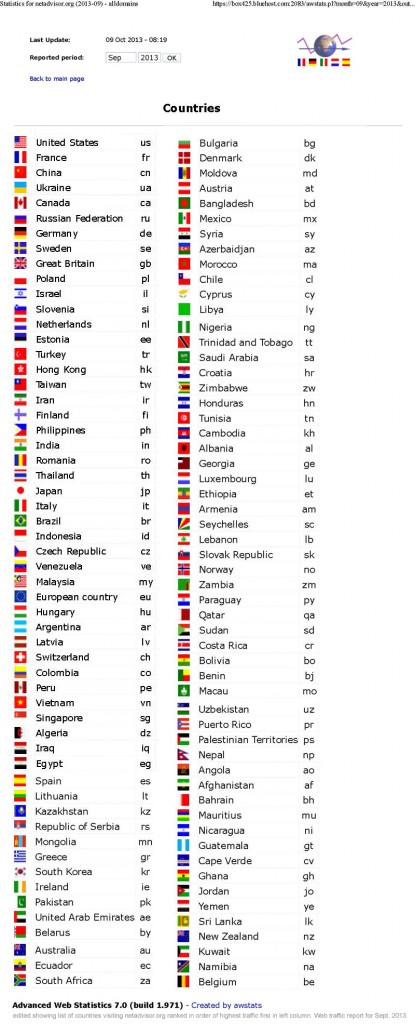 [2] Chart by the Numbers
Since we mostly write about U.S. and related issues, most of our traffic comes from within the United States. We do cover foreign policy, international terrorism, and periodically international economic issues in the EU or as they relate to one of our reports. Because these issues relate to international communities, we suspect that is why we have a large number of international visitors each month.
This site can also be instantly translated into 35 different languages with our translation feature; of course one needs to know to look for the word "[Translate]" at the top of each page, which is written in English.
We found it interesting that people from France were our second most frequent visitors in September, followed by China where their government has huge restrictions of allowing their people access to western media. China and Russia are typically avid readers, after the USA. Here is the list in order of most frequent visitors from which country. The following list is the same from the above graphic, numbering the rank in order of traffic from the corresponding country.
Countries Visited NetAdvisor.org® in Order of High Traffic First.
United States
France
China
Ukraine
Canada
Russian Federation
Germany
Sweden
Great Britain
Poland
Israel
Slovenia
Netherlands
Estonia
Turkey
Hong Kong
Taiwan
Iran
Finland
Philippines
India
Romania
Thailand
Japan
Italy
Brazil
Indonesia
Czech Republic
Venezuela
Malaysia
European country
Hungary
Argentina
Latvia
Switzerland
Colombia
Peru
Vietnam
Singapore
Algeria
Iraq
Egypt
Spain
Lithuania
Kazakhstan
Republic of Serbia
Mongolia
Greece
South Korea
Ireland
Pakistan
United Arab Emirates
Belarus
Australia
Ecuador
South Africa
Bulgaria
Denmark
Moldova
Austria
Bangladesh
Mexico
Syria
Azerbaidjan
Morocco
Chile
Cyprus
Libya
Nigeria
Trinidad and Tobago
Saudi Arabia
Croatia
Zimbabwe
Honduras
Tunisia
Cambodia
Albania
Georgia
Luxembourg
Ethiopia
Armenia
Seychelles
Lebanon
Slovak Republic
Norway
Zambia
Paraguay
Qatar
Sudan
Costa Rica
Bolivia
Benin
Macau
Uzbekistan
Puerto Rico
Palestinian Territories
Nepal
Angola
Afghanistan
Bahrain
Mauritius
Nicaragua
Guatemala
Cape Verde
Ghana
Jordan
Yemen
Sri Lanka
New Zealand
Kuwait
Namibia
Belgium
— Data Source: awstats
[3] Thank you!
We also update at least once per month notable and public figures that have linked with us on social network(s). One can see who is following us here.
If you found any of our articles or reports interesting, please share ("Like") them on Facebook®, ("Tweet") it on Twitter® or share any other social network.
Thank you for visiting NetAdvisor.org®!
____________________________________________________________________________
Beach image licensed to NetAdvisor.org®
Original article content, Copyright © 2013 NetAdvisor.org® All Rights Reserved.
NetAdvisor.org® is a non-profit organization providing public education and analysis primarily on the U.S. financial markets, personal finance and analysis with a transparent look into U.S. public policy. We also perform and report on financial investigations to help protect the public interest. Read More.
___________________________________________________________________________