Fact Check: Pres. Obama: 'We're Better Off' and 'No WH Scandals?'

Fact Check: Pres. Obama: 'We're Better Off' and 'No WH Scandals?'
by Net Advisor™
WASHINGTON DC. We have had the unique opportunity to research and write about any claims and statements made by the political parties over the last 8 years. We have raised issues with both parties and policies that conflict with the law, and the failure to hear the people.
When the People of the United States feel they are not being heard, most get out and vote. Some people as we have seen increase over the last 8 years choose to riot, loot/ steel, burn vehicles, other property that was NOT theirs, and attack those who are here to protect all of us – called police.
President Obama appeared on CBS 60 Minutes on January 15, 2017. If we were paid to fact check every statement, it would probably be a 70 page report when providing citations. Unfortunately we aren't paid to cover that time in a report for a President who is going to be out of office in 4 days.
So we will address a couple key points that President Obama stated.
That we are better off then we were 8 years ago when Obama came to office.
That there were no scandals in the White House which we refer to his Administration in total.
[1] Are we better off than we were 8 years ago?
One can argue that then economy was in recession when Obama took office, and arguably the worst recession since the depression. Many people have called it "The Great Recession."
It is true that we were losing jobs at a rapid rate in a shorter period of time, that banks, insurance companies, mortgage companies and other business either collapsed or were near collapse.
Economies or large multi-national businesses don't collapse over night. It took years of both bad business decision making, government polices, (further) consumer speculation (housing), and a Federal Reserve (rocketing interest rates 425% in 2 years) that created the"Perfect Storm" that negatively impacted people, the economy and the markets.
We can't blame Obama for the time he was not in office, but we can look at the results of his policies while he was in office.
"By almost every measure, the country is significantly better off than when I came in. If you can look back and say, The economy's better. Our security's better. The environment's better. Our kids' education is better…"

— President Barack Obama, CBS 60 Minutes, Jan. 15, 2017 (PDF, P7 highlighted)
The results include:
Civilian Labor Force Participation Rate Lowest Since About 1978.

So more people in the U.S. are not working today than we had during the worst of the Great Recession.
More People in America Are on Food Stamp Welfare Under Obama

Consumers are having to borrow more to just keep up living. This should be HUGE concern for president-Elect Trump. Cutting taxes for especially the Middle-Class and lower income can help relive debt by allowing consumers to keep more of their own earned money.
U.S. Home Ownership Rate Lowest Since 1965
With record consumer debt, people can't afford homes like they once did. If the trend continues the risk is real estate prices will have to come down or else fewer people will ever own homes. With the Federal reserve raising interest rates again, the will put more people out of the home buying market and risks negatively impacting higher cost real estate and other consumer loans.

Student Loan Debt at an All-Time High
If the economy was so much better, why are student strapped with record debt and fewer job opportunities? Did we tell you that the Obama Administration took over the student loan program away from private banks and put the risks on tax payers.

Healthcare Costs Have Soared and the "Affordable Care Act" has not Worked
The "Affordable Care Act" (ACA) or ObamaCare was passed by in a highly controversial way in 2010. Just in the first four years following Obamacare, the U.S. government spent $10.6 Trillion on healthcare. Medicare specialty drug costs up 45.9% just in 2014 alone.

The result of government ran healthcare: More Americans are uninsured since the passage of Obamacare. We have offered 10 solutions to help address some of the healthcare issues.
More Americans Living in Poverty, Worst Since 1959
We have addressed this record poverty issue based on U.S. Census Bureau data in more detail here.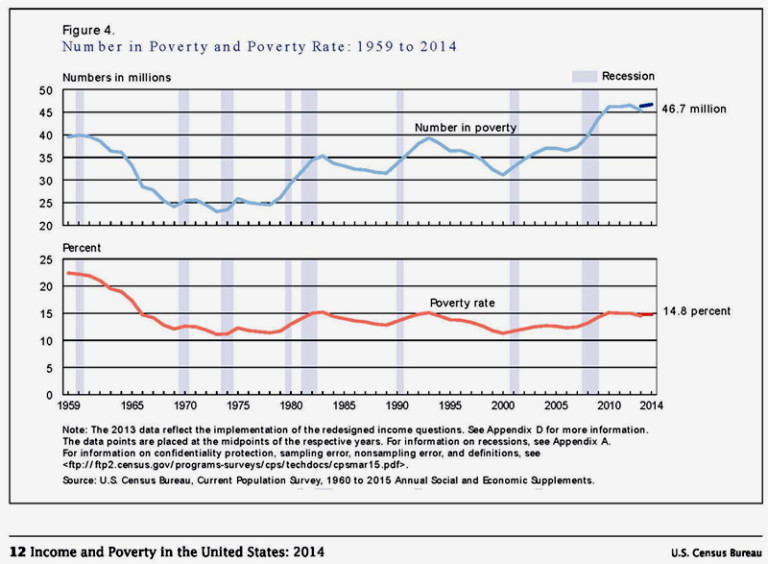 Official Unemployment/ Underemployment at 9.7%
For years we have challenged the government's math on the U.S. unemployment rate.

Last October, I looked at the Bureau of Labor Statistics data. I calculated that if you take the U.S. population who are deemed able to work (The Employment Population) at 59.8%, then subtract 100%, you get 40.2%. This is the number of people in the U.S. who are part of the official Employment Population, and yet have no job.
As for how the economy grew, it barely budged. We first reported this in early 2016 and calculated an average Real Growth Rate of the U.S. economy of 0.47% a year.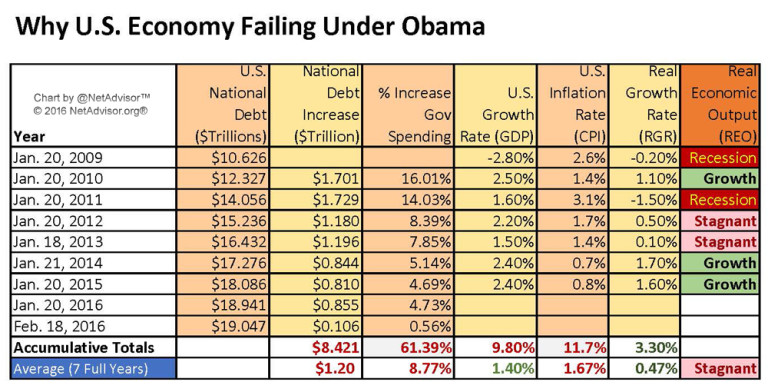 The only major grow we say in the economy was the increase of the U.S. National Debt. As of January 12, 2017, the U.S. National Debt stood at exactly $19,941,807,383,847.05 (or rounded to $19.942 Trillion in debt). So from when President Obama took office to Jan. 12, 2017, the U.S. National Debt increased $9.136 Trillion or 87.67% in 8 years – more than ever U.S. President that preceded Obama – COMBINED.
In total, it is hard to say that we, by the economic numbers are better off than we were 8 years ago.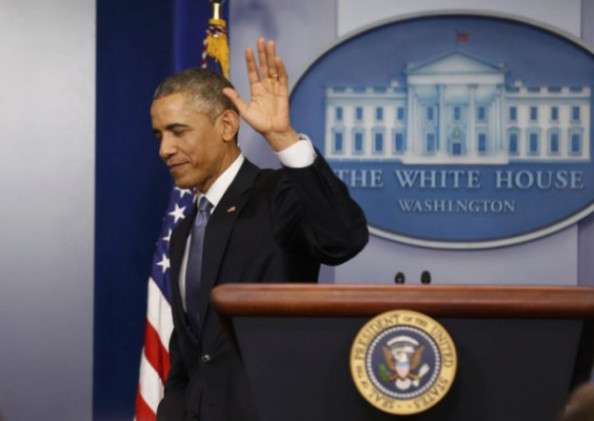 [2] President Obama: 'There were no scandals in the White House.'
We refer to his Administration in total when counting scandals. If one only means sex scandals involving the President that were proven, then, that appears to be the correct answer. As for sex scandals in the Administration, there were a few that were reported:
Obama Admin Sex-Related Scandals
Mar. 25, 2010: SEC's Porn Problem: 28% Gov Agency Visit Adult Websites at Work
Oct. 16, 2014: State Dept. Sex Scandals
Feb. 24, 2015: State Department official, 44 arrested for allegedly soliciting sex from a minor
Mar. 03, 2015: Government Can't Fire Feds Who Spend Hours Watching Porn
Mar. 26, 2015: DEA agents had 'sex parties' w/ prostitutes hired by Colombian drug cartels
May 27, 2015: DOD Charges Millions at Casinos, Strip Clubs on Govt Credit Cards
We actually have an archive of over 22,000 major event files covering just the Obama years (and separately, coverage of  other Presidents and other major topics). If someone was interested in research for a book we have probably one of the most organized files by year, by topic, then sub-topic and by date. This doesn't include a separate 4,500+ files on 907 topics covering elections, just to give you an idea on the depth of our research work. So there is a ton here we are leaving out to get the full picture. We just don't have the free time right now to publish something that big. Here is a healthy broad sample of the last 8 years.
"…I'm proud of the fact that, with two weeks to go, we're probably the first administration in modern history that hasn't had a major scandal in the White House."

— President Barack Obama, CBS 60 Minutes, Jan. 15, 2017 (PDF, P7 highlighted)
Let's now review a modest handful sample scandals during the last eight years of the Obama Administration.
1. General Controversy
Jan. 12, 2009: 44 to Reverse 43's Executive Orders 
Jan. 21, 2009: Obama Team to Undo Bush Rule Changes
Apr. 29, 2009: Obama's First 100 Days: Undo Bush Administrations Policies
Nov. 17, 2011: Solyndra $535 Million Loan Mostly Lost to Taxpayers
Aug. 23, 2011: Obama Starts Suspending Deportations
Sept. 14, 2011: Obama campaign goes on the attack against 'attacks' Launches "@AttackWatch"
Sept. 22, 2011: Airlines and Industry Groups Oppose $25 Billion Tax on Air Travelers
Sept. 27, 2011: Obama visit caused $676K in airport damage – refuses to pay for damages
Oct. 5, 2011: U.S. Secretly Met Afghan Militants (Anti-U.S.)
Jan. 20, 2012: Obama – Religious employers must offer free birth control
Jan. 20, 2012: US announces easier visa arrangements for foreigners'
Sept. 17, 2012: Obama – 'I pretend I'm going to work' and 'switch on Homeland'
Apr. 25, 2012: Obama embraces Islam
Aug. 02, 2012: U.S. nuclear site shut down temporarily after security breach by activists
Sept. 17, 2012: FBI considers sovereign citizen – biggest domestic terror threat
Oct. 19, 2012: Equal pay? Women in Obama's WH earn less then men
Nov. 30, 2012: Obama demands $1.6 trillion tax boost, and an unlimited credit card
Jan 07, 2013: Library of Congress attempts to archive every tweet sent since 2006
Jan. 22, 2013: US gift of F-16 fighters headed to Egypt, despite Morsi's harsh rhetoric
Mar. 05, 2013: TSA lifts post-911 ban against small knives
Apr. 04, 2013: HHS resurrects 'Acorn' Through ObamaCare
May 21, 2013: Accused Fort Hood Shooter Paid $278,000 While Awaiting Trial
Oct. 31, 2013: Obama's Senior DHS Advisor: America is an "Islamic Country"
July 02, 2013: WH postpones Obamacare's employer mandate until AFTER midterm elections
Dec. 10, 2013:  Pres Obama poses for selfie at Nelson Mandela's Memorial Service
Dec. 10, 2013: Michelle Obama looks unamused by Barack's joking with Danish prime minister
Jan. 15, 2014: Obama says he won't wait for legislation – 'I got a pen and a phone'
Jan. 29, 2014: AG Holder cant explain Constitutional basis for Obama's executive orders
Jan. 31, 2014: Obama will take 'Executive Action' to Reduce Prison Population
Feb. 10, 2014: Obama – 'I can do whatever I want'
June 12, 2014: Gallup – Majority Says Obama Not 'Honest and Trustworthy'
July 28, 2014: Obama – Muslims Built 'The very fabric of our nation' 
June 04, 2014: Islamic radical groups skyrocketed since 2010, new study finds
Sep. 25, 2014: Fact Check – Obama has bombed more nations than Bush
Oct. 15, 2014: Houston Democrat Mayor Targeting Christian Churches
Nov. 10, 2014: Obama threatens amnesty exec action before new congress sworn in
Nov. 12, 2014: 11 Countries Have More Freedom Than USA
Dec. 04, 2014: Poll – 52% Of Voters Under Age Of 25 Would Recall Obama
Dec. 30, 2014: Obama Will Shut Border Agency To Aid Illegals
Feb. 26, 2015: Boehner: Obama Should Be Thanking, Not Threatening, ICE Officers
Mar. 30, 2013: U.S. signed agreement with Mexico, others to teach immigrants to unionize in the USA
June 02, 2015: FBI behind mysterious surveillance aircraft over US cities
July 15, 2015: Obama's clemency (prisoner release) grant largest since the 1960s
Nov. 1, 2015: America's largest-ever mass federal inmate release begins, almost a third of prisoners
Nov. 10, 2015: 13,000 drug felons to be released starting Nov 1
Nov. 09, 2015: Feds Send Man to Jail for Overfishing as 6,000 Drug Convicts are Free
Feb. 10, 2016: Supreme Court deals blow to Obama climate plan
Feb. 16, 2016: Obama bypasses Congress, and SCOTUS, to sign Paris climate act
Mar. 22, 2016: Obama Attends Baseball Game in Communist Cuba During Brussels Terror Attack
Oct. 22, 2016: VP Biden Threat to Trump
3. Anti-American or Anti-Foreign Allies
Sept. 13, 2008: Obama's Pastor – God Damn America, U.S. to Blame for 911
Apr. 03, 2009: Obama Apology Tour
Mar. 25, 2009: Obama Returns Churchill Bust to England – Snub to England
Apr. 16, 2009: Obama in Mexico – Still Apologizing
Apr. 17, 2009: Obama apologizes for America's runaway capitalism
June 04, 2009: Obama's Cairo Speech text – 'U.S. Apology Tour'
June 04, 2009: Obama Quotes Koran Verse 5-32, Omits 5-33
Nov. 18, 2009: Obama Criticizes Israel Over Settlement-building
Sept. 23, 2010: Obama OIC Envoy to Address Brotherhood-linked Event
May 19, 2011: Obama Speech Backlash on Call to Reinstate 1967 Mideast Borders
May 03, 2012: Obama Downsizing America
Aug. 31, 2012: Five Times Obama Has Apologized for America
Sept. 26, 2012: Obama: 'The future must not belong to those who slander the prophet of Islam'
Mar. 05, 2013: AG Holder – Drone Strike To Kill U.S. Citizen On American Soil Legal, Hypothetically
Sept. 18, 2013: Dick Durbin's Dreamer – 'F—Israel'
Nov. 23, 2013: USPS Ad for 'Holiday Stamps' Omits Christmas
Nov. 26, 2013: Obama's call to close Vatican embassy is 'slap in the face' to Roman Catholics
Jan. 29, 2014: 'I will veto' new legislation against Iran, Obama tells Congress
Feb. 27, 2014: Not safe to display American flag in American high school 
May 18, 2014: Harry Reid – Vote to Amend U.S. Constitution to Limit Political Speech
May 21, 2014:  (D) Congressman – 'We've proved Communism works'
May 27, 2014: 41 Democrat Senators Want to 'Repeal the First Amendment'
July 24, 2014: James Carville Obama 'Doesn't Really Care' What The American People Think
Oct. 27, 2014: Democrats Threaten Internet Free Speech
Nov. 25, 2014: Chuck Schumer (D-NY): '85% Americans Were Fine (Before ObamaCare)'
Feb. 12, 2015: U.S. Drops to 49th in World Press Freedom Rankings, Worst Since Obama Became POTUS
Apr. 25, 2015: Viral Video of Obama's Anti-American Rally Disappears Suddenly
Aug. 31, 2015: Ohio lawmakers slam Obama plans to rename Mt McKinley to Denali
Jan. 07, 2016: 'I will veto' new legislation against Iran, Obama tells Congress
Jan. 07, 2016: Obama Threatens Punish Israel for Building in Jerusalem, While Easing Sanctions on Iran
Mar. 1, 2016: DHS Records: Officials Ordered Terrorist Watch List Scrubbed (File 183pps)
Apr. 01, 2016: Obama White House Censors Phrase 'Islamist Terrorism'
4. Weak
June 23, 2009: A Weak American President
July 09, 2014: Putin sees 'weak Obama' as chance to seize Ukraine
Oct. 11, 2014: In Asia, Obama seen as 'weak'
Oct. 23, 2014: Top Iranian Adviser – Obama is 'Weakest of US Presidents'
Feb. 11, 2015: Critics_ Obama's Weak ISIS Response Is Dangerous
Apr. 16, 2015: US Marine imprisoned in Iran a victim of torture, cruelty, family says
July 7, 2015: Airforce Scrambled Fighter Jets Intercept Russian Bombers on Fourth of July
Sept. 02, 2015: U.S. Soldiers Should Not 'Impose' on All Afghan Customs, Including Child Rape
Oct. 12, 2015: Obama on Putin in Syria: My definition of leadership would be leading on climate change
Dec. 1, 2015: Obama Calls Climate Change, Not Terrorism, Our Greatest Threat
June 24, 2015: White House says more than 30 Americans held hostage abroad
Dec. 04, 2015: White House Insists it Still Does Not Know Motive Of San Bernardino Shooter
Aug. 15, 2015: U.S. Female Hostage (Kayla Mueller) Raped by Islamic State Leader Before Death
Jan. 08, 2016: Another 41 Immigrants Snagged On Terror Charges in USA; 113 Since 2014
Mar. 30, 2016: DNI – 116 Former Gitmo Detainees Returned to Terror or Insurgencies
Dec. 06, 2016: Obama – Terrorism doesn't 'pose an existential threat to our nation'
5. Government Takeovers, Bailouts & or Government Control
May 22, 2009: Obama Steers General Motors Toward Bankruptcy
Mar. 29, 2009: Obama Requests General Motors CEO Step Down
Mar. 30, 2009: Obama to GM & Chrysler: Restructure or Else
Sept. 09, 2009: Taxpayers Unlikely to Recover GM, Chrysler Investment
Sept. 16, 2009: Obama's Student Loan Takeover
Nov. 16, 2009: CNN (Government) Bailout Tracker
Jan. 11, 2010: SEC order helps maintain AIG bailout mystery
Sept. 2013: EPA Control Over all Water – Land Areas (64pps)
Dec. 09, 2013: EPA says taking over private property will benefit the economy
Mar. 12, 2014: President plans executive order forcing companies pay more workers time-and-a-half
Nov. 12, 2014: White House Releases Plan 3,415 Regulations Ahead of Thanksgiving
July 20, 2015: Obama pushes new gun control law could take the right to bear arms away from 4.2M SS recipients
Dec. 08, 2014: Operation Choke Point, Rule of Law and Impact on Disfavored Businesses
Dec. 06, 2015: Loretta Lynch Vows to Prosecute Anti-Muslim Speech
July 06, 2016: Obama Lost Supreme Court More Than Any Modern President
Aug. 08, 2016: Justice Department Will Phase Out Its Use Of Private Prisons
Mar. 08, 2016: Report_ Obama denied a record 77% of FOIA requests
6. Obstructionists
Oct. 10. 2010: Frustrated (R) House still waiting for (D) Senate action on 420 bills
Feb. 16, 2011: Obama Issues Government Shutdown Threat, Would Stop Social Security Checks
Jan 05, 2014: Democratic Think Tank: Harry Reid & Senate Dems Responsible for Gridlock
Feb. 11, 2014: Pelosi (D-CA) Threatens to Shut Down the Government
July 22, 2014: Top 10 Bipartisan Jobs Bills Blocked by Senate Democrats
Aug. 1, 2014: House Passed More Than 350 Bills That Sit on (D) Harry Reid's Desk
Dec. 12, 2014: Senate Majority Leader Harry Reid Blocks Quick Budget Deal
Dec. 29, 2014: Obama – Harry Reid (D-Nev.) was my pocket veto (P5-6)
Feb. 03, 2015: Obama Administration Frustrates Inspectors General on Records Access
Mar. 08, 2015: Senate Dems block trafficking bill for second day
Oct. 01, 2015: Senate Democrats block VA budget bill
Jan. 04, 2016: Government Named Number 1 Problem in USA
July 06, 2016: Senate Democrats block bill to strip federal funds from 'sanctuary cities'
July 08, 2016: Senate Democrats block defense spending bill
Sept. 6, 2016: Senate Democrats block measure to battle Zika virus
Sept. 27, 2016: Senate Democrats block government funding bill over Flint aid
7. Blame Game
We left out most of the Obama Admin who blamed Bush Admin for _(insert issue)_ (even thought Obama reversed many of Bush's Executive Orders right when Obama got into office in 2009.
Apr. 22, 2009: Obama Blames America
May 21, 2009: How many times did Obama blame Bush for the current situation
Oct. 26, 2009: Christina Romer – Bush, Health Costs to Blame for Deficit (FYI Romer was the architect of the Obama Stimulus/ bailout package, resigned shortly after. Went back to teaching at Harvard).
Feb. 02, 2010: Obama Can Blame Bush All He Wants, But His Budget Is Even Worse
Feb. 09, 2010: Obama Won't Abandon Blame Bush Strategy
May 01, 2010: Obama Points to New Villain in Chrysler Bankruptcy – Hedge Funds
Mar. 12, 2011: Obama Blames Lazy Oil Companies for America's Energy Shortfall
Aug. 02, 2010: Obama Blames Bush and GOP FYI: (D) in control from Jan 2009-Jan 2011)
Aug. 04, 2011: OBAMA BLAMES 'DEMOCRACY' FOR HIS FAILURES
Oct. 08, 2011: Obama to blame for S & P downgrade
Dec. 09, 2011: Obama Blames the Rich
Jan. 13, 2012: Obama blames Nixon for NOAA (Nixon left office in 1974 when Obama was age 13)
Jan. 19, 2012: Obama blames press for his  'cold and aloof' image
Jan. 30, 2013: White House GOP responsible for contracting economy
Mar. 13, 2013: Obama suggests Secret Service at fault for shuttered White House tours
May 09, 2014: Four Pinocchios for Obama about Republicans (WP)
June 29, 2014: Obama_ Congress Obstructs, So I Act Alone
Jan. 30, 2015: VP Biden – It's Mostly Bush's Fault
Mar. 17, 2015: Obama Blames Bush For Rise Of ISIS
July 29, 2015: Obama Threatens to Veto VA Accountability Act
8. Hurt U.S. Tax Payers / Destroy U.S. Jobs
Feb. 2, 2009: Obama's Budget – Almost $1 Trillion in New Taxes
Feb. 15, 2009: Obama trade policies threaten 585,800 US jobs-study
Sept. 15, 2009: Obama – Cap and Trade Could Cost Families $1,761 A Year
July 30, 2015: Audit finds 22 of 23 taxpayer-backed ObamaCare co-ops lost money in 2014
Jan. 11, 2016: Obama's regulations cost $197 BILLION…$784 Million PER DAY
9. False Promises
2007: Obama to end war in Iraq
Feb. 27, 2009: Obama to end Iraq war by August 2010
Jan. 06, 2010: Obama promised 8 times during campaign to televise health care debate
Aug. 22, 2011: Obama Admin – The War On Terror Is 'Over'
Nov. 12, 2012: Obama Has Touted Al Qaeda's Demise 32 Times since Benghazi Attack
Dec. 13, 2012: Lie of the Year – 'If you like your healthcare plan you can keep it'
Jan. 13, 2014: Obama's Broken Promise: Federal Agencies Not More Transparent
Jan. 17, 2014: WAPO – '3 Pinocchios' to Obamacare Enrollment Numbers
Mar. 03, 2014: Est 25 million will still be uninsured after 10 yrs. under ObamaCare – CBO
July 13, 2014: Chicago Slams Obama – 'Worst President Ever Elected'
Aug. 05, 2014: GAO: $619 Billion in Gov Spending Never Disclosed on Transparency Website
May 20, 2015: Obamacare's Dirty Secret – 31 Million Still Can't Afford Treatment
Sept. 16, 2015: U.S. Poverty at 30 year record high
10. Higher Scandals (Constitutional & Other Scandals)

2008
Nov. 14, 2008: Obama Advisor Valerie Jarrett Linked to Real Estate Scandals
2009
May 20, 2009: National Archives offers reward for missing hard drive (contains Hillary Clinton info)
Sept. 21, 2009: Campaign Fraud – U.S. Charges Obama Fund-raiser in $290 Million Fraud
Apr. 17, 2009: Obama's Car Czar Caught Up in Investigation
July 10, 2009: Obama's U.S. Domestic Spying Program
2010
Oct. 27, 2010: DOD $8.7 Billion spent, no records kept
Dec. 12, 2010: Top 10 violations of the Constitution by Obama and the 111th Congress
2011
No Month 2011: US (Obama) plans top let spy agencies scour American's finances
May 03, 2011: ATF Agent: I was ordered to let U.S. guns into Mexico
Oct. 05, 2011: ATF officials reassigned in latest Fast and Furious fallout
Oct. 24, 2011: Obama to bypass Congress on mortgages
Dec. 07, 2011: Documents ATF used 'Fast and Furious' to make the case for gun regulations
2012
Jan. 04, 2012: Obama Sidesteps Congress on Consumer Pick 
Jan. 05, 2012: Obama to Congress – I'll decide what's constitutional
Jan. 05, 2012: DOJ Steers Countrywide Settlement Cash To Leftist Groups With Dem Ties
Feb. 03, 2012: DOJ Fast & Furious Document Dump – More Evidence Holder Lied to Congress
Mar. 12, 2012: Martial Law by Executive Order (highlight added) (additional info)
Mar. 21, 2012: Obama Bypasses Congress, Gives $1.5 Billion to Muslim Brotherhood
May 22, 2012: White House is "strangling" Catholic church
Jun. 22, 2012:  Imperial Presidency by Matthew Spalding, Ph.D.
June 28, 2012: Attorney General Eric Holder held in contempt of Congress
July 10, 2012: Obama signs order outlining emergency Internet control
July 13, 2012: Obama's Imperial Presidency Guts Welfare Reform
Oct. 24, 2012: Solyndra-linked fundraiser still boosting Obama campaign
Oct. 24, 2012: White House Cover Up Benghazi Attack (emails)
Nov. 17, 2012: (Obama's Indefinite) Military Detention Law Blocked by New York Judge
Dec. 31, 2012: Obama Seizing Sole Authority for US Defense
2013
Jan. 02, 2013: Obama Bypasses Congress, Shifts Rules on Immigration Again
Jan 07, 2013: Muslim Brotherhood Infiltrates The White House
Jan. 25, 2013: Court rules Obama's appointments unconstitutional
Mar. 29, 2013: Federal Government Is Grabbing Unprecedented and Dangerous Raw Power
Apr. 04, 2013: Obama- Constitution 'Constrains' Me
Apr. 16, 2013: Judge – NSA's collecting of phone records is likely unconstitutional
May 05, 2013: ALL phone calls in the US are recorded and accessible to the government
May 20, 2013: DOJ LEAKED DOCS TO SMEAR FAST & FURIOUS WHISTLE-BLOWER
June 04, 2013: FEDS Get CT Order to ALL Verizon's call records
June 27, 2013: Park Police lost track of thousands of weapons, inspector general's report says
July 29, 2013: Democrats call on Obama to rule like a dictator
Aug. 14, 2013: Obama's unconstitutional steps worse than Nixon's
Sept. 18, 2013: 46 of 99 U.S. Senators Vote To Give Your Constitutional Rights to UN
Sept. 19, 2013: Obama donor gained nearly $1 billion in tax credits in Solyndra bankruptcy
Dec. 03, 2013: Expert Testifies to Congress Obama's 'Ignoring Laws' Could Lead to Overthrow of Gov
Dec. 09, 2013: Obamacare's Top 10 Constitutional Violations
Dec. 23, 2013: Obama's Top 10 Constitutional Violations Of 2013
Dec. 30, 2013: State Dept whistleblower's emails hacked, deleted
Dec. 31, 2013: Obama To Americans – You Don't Deserve To Be Free
2014
Jan. 01, 2014: American companies respond to new NSA hacking claims
Jan. 27, 2014: Spies use Angry Birds and other apps to track people, documents show
Jan. 28, 2014: Federal consumer bureau data-mining est 991M consumer credit card accounts, mortgages
Jan. 30, 2014: Lawmakers criticize hiring of Obamacare enrollers with criminal records
Feb. 14, 2014: Obamacare Recruiting Illegals in California
Feb. 26, 2014: Enforcing POTUS Constitutional Duty to faithfully Execute the Laws (testimony)
Feb. 27, 2014: Tech industry slams NSA webcam spying
Mar. 11, 2014: Sen. Feinstein (D-CA) Says CIA Spied on Congress
Mar. 25, 2014: Issa – AG Eric Holder 'abused his office' in 'divisive' tenure
Apr. 04, 2014: WH Jay Carney: 14 million losing health insurance is 'small sliver'
Apr. 04, 2014: $6 Billion Missing from State Department
Apr. 24, 2014: 40 Veterans die of waiting, VA official responsible for secret list…scandal
May 07, 2014: IRS Official Lois Lerner Held in Contempt of Congress
May 07, 2014: EPA accused of tolerating rampant employee misconduct, obstructing probes
May 13, 2014: Eric Holder – No Plans at DOJ to Investigate Secret Waiting Lists/ Veteran Deaths at VA
May 15, 2014: VA Spends ~$500 Million on Conference Room, Office Makeovers Under Obama
May 29, 2014: IG – HHS Spent $120.6 Million on Medicare for Illegal Aliens
June 6, 2014: How the NSA can 'turn on' your cell phone remotely
June 26, 2014: SCOTUS Overturns Obama's recess appointment power (108pps)
June 30, 2014: Obama to BYPASS Congress AGAIN to enact immigration reform
July 09, 2014: VA apologizes to whistle-blowers facing retaliation
July 10, 2014: Justice won't probe CIA, Senate spying allegations
July 23, 2014: GAO Report Obamacare – Fake info given get subsidies (27pps)
July 24, 2014: Obama: "I don't care if its legal"
Aug. 25, 2014: NSA uses 'Google-like' tool to share (850) billion of calls, emails
Sept. 04, 2014: 75% IRS targeted non-profit groups were conservative, just 5% were liberal
Oct. 24, 2014: Valerie Jarrett Key Player in Fast & Furious Cover-Up After Holder Lied to Congress
Oct. 28, 2014: AG Eric Holder's Wife Is Granted Executive Privilege
Nov. 03, 2014: Attkisson – Hacking Software Was from FBI, CIA, DIA or NSA
Nov. 13, 2014: Pelosi says she doesn't know who Jonathan Gruber is. She touted his work in 2009.
Nov. 14, 2014: Obamacare architect: Lack of transparency helped law pass – Voters are stupid
Nov. 17, 2014: US group CAIR named terrorist organization by United-Arab-Emirates
Nov. 19, 2014: 22 Times President Obama Said He Couldn't Ignore or Create His Own Immigration Law
2015
Jan. 29, 2015: Muslim Brotherhood-Aligned Leaders Hosted at State Dept. (2011: FBI Said MB terror org)
Jan. 22, 2015: Obama Won't Meet With Netanyahu During Washington Visit
Jan. 29, 2015: John Podesta Caught In Conflict Of Interest Over ANWR Push
Feb. 09, 2015: U.S. Embassy Met With Group Trying to Influence Israeli Elections
Feb. 11, 2015: David Axelrod says Obama LIED about his support for gay marriage to get elected
Feb. 11, 2015: Sen. Ron Johnson asks how 80,000 'lost' Lerner emails were recovered by IRS watchdog
Mar. 00, 2015: IG Report: Massive Deleted email records by Obama-Hillary gov (30pps)
Mar. 02, 2015: Department of Education employees stole student's info to get loans
Mar. 06, 2015: Feds prepare criminal corruption charges against Senator Bob Menendez (D)
Mar. 16, 2015: White House office to delete its FOIA regulations
Mar. 17, 2015: Hillary Clinton's State Dept Hide Documents hide documents after Benghazi
Mar. 25, 2015: Feds Paid Politico $432,000 in 2014
Mar. 31, 2015: Harry Reid 'No Regrets' About Lying About Mitt Romney's Taxes
Apr. 21, 2015: Report: IRS In Bed With Left-Wing Atheist Group On Church Monitoring
May 08, 2015: U.S. to Fund Russian Nuclear Security Despite Ukraine Sanctions
May 08, 2015: Attorney – Spy Chief had 'forgotten' about NSA program when he misled Congress
June 22, 2015: FBI Files Document Communism in Valerie Jarrett's Family
June 25, 2015: IRS permanently destroyed up to 24,000 Lerner emails after subpoena
July 23, 2015: Watchdog: Increased risk of IRS unfairly auditing political groups
July 25, 2015: Obama Blocks Investigator's Access to Files Related to DOJ Scandals
Aug. 03, 2015: State Department watered down human trafficking report
Aug. 11, 2015: Five GAO employees accused of school lunch fraud
Nov. 11, 2015: Fifth Circuit Rules Obama Violated Constitution On Unilateral Immigration Changes
Oct. 24, 2015: Bureau of Land Management illegally sold thousands of wild horses for slaughter
Dec. 23, 2015: Obama's Top Ten Constitutional Violations of 2015
2016
Jan. 7, 2016: (75) Times Obama Broke Law During Presidency
May 16, 2016: A List of Obama's Constitutional Violations
Aug. 09, 2016: ISIS Intel Info Was Cooked, House Panel Finds
Sept. 20, 2016: Emails reveal collusion between EPA & green groups on climate-change rules
Oct. 16, 2016: Hillary Clinton: Saudi and Qatar Support Terrorism, While Clinton's Accept Their Money
The aforementioned are just a handful of public controversy, scandals and the similar. We conclude that it would not be accurate to say that the U.S. economy is better off when for example, more people are not working, on welfare, and in higher poverty than before the last major recession.
Nor can one truthfully say that there were no scandals in the Obama Administration. We left out most all the scandals involving Hillary Clinton. Clinton did serve in the Obama Administration for two years and this should be included and is named in a few instances here during here tenure. Read more our report on the Clinton Scandals:
Read more in-depth reports and articles on U.S. National Policy, each fully cited covering 22 major topics that can be found here.
_______________________________________________________________________
Images from public domain. Please advise for credit.  Third party content property of their respective owners. Original content copyright © 2017 NetAdvisor.org®
NetAdvisor.org® is a non-profit organization providing public education and analysis primarily on the U.S. financial markets, personal finance and analysis with a transparent look into U.S. public policy. We also perform and report on financial investigations to help protect the public interest. Read More.
______________________________________________________________________
Related posts: