Clinton Foundation Fails Haiti

Clinton Foundation Fails Haiti
written by Net Advisor™
PORT-AU-PRINCE, Haiti. In 2010, Haiti experienced a major earthquake with a magnitude of 7.0. Over 100,000 people killed, 30,000 business, and some 250,000 residences destroyed. Many in the world including the U.S. offered their assistance. But the person in charge of U.S. assistance seemed to have helped their political associations more than the people in Haiti.
Some have argued that the Clinton Foundation used the tragedy in Haiti to make money for themselves, enrich their donors, and fell well short of the aid they promised.
[1] No Schools Built
An email released by Wikileaks shows Clinton Foundation people asking each other how to respond to a Washington Post request about foreign interests, and the Clinton Foundation's apparent conflict of interests in Haiti.
The email from Clinton Foundation's Craig Minassian says in part that he is concerned about saying they used money to fund 'healthy schools,' because the truth is, they didn't.
email summary highlighted: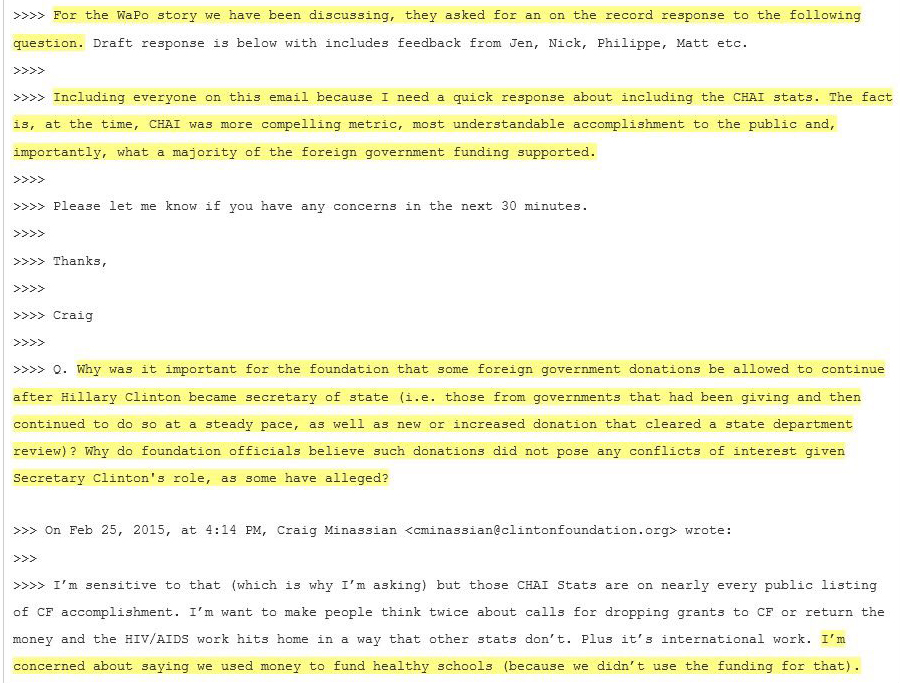 So apparently no money went for Haiti schools.
Former President Bill Clinton's actions in the past brought little help to Haiti too.
"The former president also loved to apologize for his own past actions—destructive food policies which flooded the Haitian market with cheap Arkansas rice, and ordering a crippling embargo that destroyed the Haiti an economy during the reign of a 1990s military junta (some of whose members had been on the CIA payroll)."

— Reports Johnathan Katz, Politico Magazine (P3)
The Clinton's and the Bush's formed the Clinton-Bush Haiti Fund, and shortly thereafter some $10 Billion was pledged to the fund for the people of Haiti.
But it appears some of the money went to projects who backed the Clinton Foundation.
[2] Did Haiti Money Really Go to Support Clinton Foundation Donors?
What resulted was not a $10 Billion investment but a more noted '$300 million Caracol Industrial Park in northern Haiti.' One family states they now live off $1.25 a day working there.
It seems the industrial park was supported by a Clinton associate who used to work for the Liz Claiborne company, and now is an advisor for a major South Korean garment company. The effort did create a reported 5,479 (low-wage) jobs 'out of a promised 60,000 jobs.'
In order to create the industrial complex some 366 Haitian farmers were evicted from their own land.  There was a New York Times report that discussed talk about the Clinton's buying up Haiti land and selling it for a profit post-earthquake crisis.
The Clinton Foundation also planned a lavish hotel where more than likely locals could not even afford to stay, let alone buy lunch.
Another report said in 2015 that a group of Haitians came to the offices of the Clinton Foundation protesting and asking where is the money that was allegedly promised to rebuild Haiti?
The report discussed that Bill Clinton was in charge of the Haiti Fund and his wife, then Secretary of State Hillary Clinton was in charge of allocating money and aid to Haiti. As we discussed, it appears that the many who got contracts in Haiti also happened to be Clinton Foundation donors.
[3] Clinton Donor Gets 12 Years in Prison – Ripping Off U.S. Taxpayers
One of those Clinton Foundation donors, fundraiser for the Clinton's and President Obama, Claudio Osorio, was supposed to build 500 homes in Haiti.
As it turns out, none of the homes were built, and Mr. Osorio reportedly made off with $10 Million of U.S. taxpayer money. Mr. Osorio is now serving 12 years in prison for his crimes.
Haiti was not the only country where this kind of questionable dealings took place.
"The Clinton Foundation financial fraud began with the illegal disaster relief efforts started in February 2001, when Clinton started chasing donations for Gujarat, India, without IRS authorization and subsequently substantial funds went missing, diverted from helping disaster victims by a bevy of scoundrels, including Rajat Gupta, now incarcerated," Ortel wrote in a new report.

— Reports Jerome Corsi
Mr. Gupta was released from prison in 2016.
[4] Banks Mired In Legal Issues, Suddenly Backed Clinton Foundation
CNN reported in 2015 that Bill and Hillary Clinton's Foundation have ties to at least six Wall Street banks mired in their own scandals.
Barclays bank allegedly violated U.S. international sanctions and was fined nearly $300 Million. The following month the bank became a "strategic partner" for a Clinton Foundation event.
"…Barclays would pay nearly $300 million in fines for breaking sanctions against Iran, Cuba, Sudan and others. The next month, it was — for the first time — a "strategic partner" for that year's annual event."

— CNN, Mar. 03, 2015
Other banks such as Standard Chartered "paid a total $667 million"  to settle its alleged violations on dealings with Iran. HSBC paid a $1.92 Billion fine to settle its alleged dealings to allow drug cartels to launder money through their bank.
HSBC also settled with the U.S. government that the bank allegedly violated existing U.S. sanctions with "Iran, Libya, Cuba" and other countries. Both banks also contributed to the Clinton Foundation shortly after their fines were paid. Hillary Clinton was head of the State Department at the time of the settlement.
It appears that most if not all the banks under questionable dealings were foreign (non-U.S.) banks.
[5] Clinton Foundation Fund-raises Off Another Potential Disaster
In October 2016, the Clinton Foundation was soliciting money for the exact same areas as they did just 6 years ago.
Our thoughts are with those affected by #HurricaneMatthew. Here's how you can support relief efforts in Haiti: https://t.co/ypB77fswXS

— Clinton Foundation (@ClintonFdn) October 4, 2016
Haiti today has been largely ignored by the Clinton's as Hillary Clinton is busy trying to get elected President.
More from TV's VICE Founder, Shane Smith:
_______________________________________________________________________
Credits: images by their respective owners as credited. Video: Vice.
original content copyright © 2016 NetAdvisor.org® All Rights Reserved.
NetAdvisor.org® is a non-profit organization providing public education and analysis primarily on the U.S. financial markets, personal finance and analysis with a transparent look into U.S. public policy. We also perform and report on financial investigations to help protect the public interest. Read More.
____________________________________________________________________
Related posts: