A Collection of Questions About Hillary Clinton's Heath

A Collection of Questions About Hillary Clinton's Heath
original article written by Net Advisor™
CHAPPAQUA, New York. Hillary Clinton's health have been more in the spotlight as ongoing public videos make it difficult to not ask questions. This report reviews just some of the available public information regarding questions and concerns for Clinton's health.
February 01, 2005:
In 2005, CNN reported that then Senator Hillary Clinton fainted during a speech. It was claimed that she had a "24-hour virus."
"She said she was not feeling well, looked pale," he said. "She told the crowd she was queasy." …at about 12:15 p.m., the senator fainted as her staff placed the microphone in front of her… Her Secret Service agents quickly surrounded the former first lady, and four people broke her fall…"
February 05, 2008:
We found this 2008 video (below) that suggests Hillary Clinton's "cough" is not exactly new. However then Senator Clinton did start her cough attacks when the news anchor started talking about her estranged husband, Bill Clinton.
.@danmericaCNN She's had similar illness since at least 02/05/2008. #HillarysHealth #HillarySickAtGroundZero pic.twitter.com/9Y5RvTD6OG

— NetAdvisor™ (@NetAdvisor) September 11, 2016
January 22, 2009:
In 2009, Hillary Clinton suffered an apparent elbow fracture after a fall. ABC News questioned whether this could be an "Osteoporosis Warning."
"Clinton, 61, reportedly fell in the State Department basement as she was on the way to a meeting and heading to her car."
September 12, 2012:
On September 12, 2012 – one day after U.S. Ambassador Stevens and three other Americans were killed during a terrorist attack in Benghazi, Libya; Susan Rice (U.S. Ambassador to the UN), said Secretary Clinton was "Too Tired" to talk about it.
December 17, 2012:
By December 2012, Secretary Clinton 'fainted' – again; this time suffering a head concussion. She was not hospitalized at the time of the incident and instead, she was being "monitored" by doctors at her home. A State Department spokesperson claimed at the time that Clinton's (head) concussion was "not severe." The fainting was blamed on "dehydration."
"U.S. Secretary of State Hillary Clinton sustained a concussion after becoming dehydrated and fainting, and will no longer testify…before the House Foreign Affairs Committee on the deadly attack on the U.S. consulate in Benghazi, Libya.

Clinton had been suffering from a stomach virus at the time, according to a statement on Saturday from Philippe Reines, deputy assistant secretary of state.

She is being monitored by doctors and is recovering at home. She was never hospitalized, Reines said."
Clinton's staff reportedly asked the NFL's help on how to spin a story to the media about her apparent concussion. As it turned out, those doctors and State Department spokesperson were apparently wrong about their diagnosis.
January 2, 2013:
In January 2013, Secretary Clinton was hospitalized and treated for a blood clot in a vein in her head.
"Hillary Rodham Clinton, whose globe-trotting tour as secretary of state was abruptly halted last month by a series of health problems, was discharged from a New York hospital on Wednesday evening after several days of treatment for a blood clot in a vein in her head…

The scan was part of her follow-up care for a concussion she sustained more than two weeks earlier, when she fainted and fell, striking her head.

According to the State Department, the fainting was caused by dehydration, brought on by a stomach virus."

— Source: New York Times (PDF), Jan. 2, 2013
January 26, 2013:
During this same time, an email by 'longtime (controversial) aide Huma Abedin,' said that Hillary Clinton is "often confused."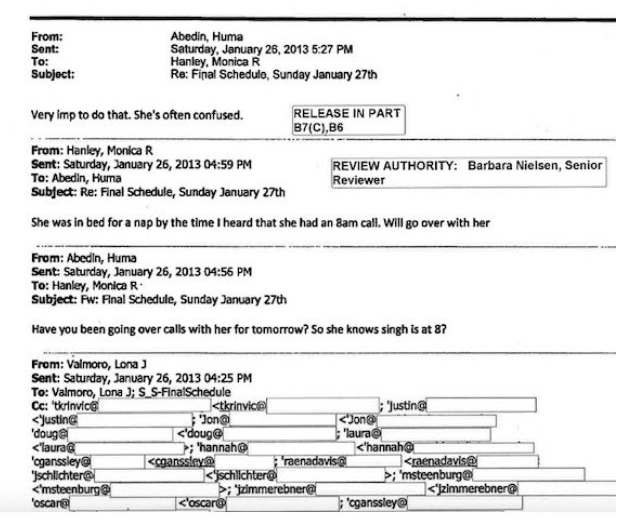 October 22, 2015:
Secretary Clinton had a sudden coughing fit during her Benghazi testimony before the House Oversight Committee.
January 25, 2016:
Hillary Clinton has another coughing fit during campaign speech in Iowa.
February 17, 2016:
The Hollywood entertainment program, Inside Edition discussed Mrs. Clinton's coughing fit in Harlem. They found some alleged doctor who said it was "acid reflex," and that Clinton just need to breathe the right way to eliminate coughing?
Just think, if we all mastered breathing the right way we would never cough again? Quack Quack.
July 2016:
It was reported by Bloomberg Politics, that Hillary Clinton nodded her head 406 times during endorsement by Bernie Sanders.
August 2016:
Secretary Clinton freezes on stage, seems lost, in a daze and confused during campaign rally in Las Vegas, Nevada. An aide or Secret Service agent rushes on stage to tell Clinton that "You're OK, keep talking…we're not going anywhere." This as to reassure her (note the aide/agent patting Clinton on her back) that everything is OK (with her)?
August 18, 2016:
Hillary Clinton appears to go into a daze or becomes confused as her speech becomes incoherent during a campaign speech.
Breaking: #Hillary has another *dazed* moment. Unfit to run. More than just "forgot my lines"#HillarysHealth pic.twitter.com/AcGx6QXSnI

— AltRight (@_AltRight_Anew) August 8, 2016
September 5, 2016:
Hillary Clinton began coughing fit when talking to reporters on her new campaign jet.
That same day, 'Hillary Clinton Started to Cough Violently In Cleveland, Ohio.'
September 11, 2016:
Hilary Clinton left early before her security caravan was ready to pick her up and was seen fainting or collapse in the arms of her handlers near the 9/11 Memorial in New York. Secretary Clinton appears to have dropped something during her collapse (Video: Wikileaks).
Clinton's Memory Blackouts?
Hillary Clinton has ADMITTED – or as she claims that the 2012 concussion has caused her memory blackouts. Clinton claims she could not remember some 35 questions from the FBI about her role as Secretary of State from 2009-2012.
Board Certified (Liberal) Doctor Loses TV Show After Questioning Hillary's Health
Dr. Drew Pinsky, American board-certified internist, addiction medicine specialist, and media personality was on a radio talk show and discussed his opinion about Clinton's health.
Dr. Drew Admits He Is "Gravely Concerned" With #HillarysHealth

PS: He's Not A Trump Supporterhttps://t.co/G1h8XhPNTv

— Baked Alaska™ (@bakedalaska) August 24, 2016
After Dr. Drew went on this radio show and cited his medical concerns for Hillary Clinton, had his TV show on HLN canceled. HLN Network is parent company of CNN, which CNN's parent company is Time Warner.  Time Warner is also a top Hillary Clinton Campaign contributor and Clinton Foundation contributor. So much for free medical advice, let alone Free Speech (First Amendment) by CNN/ Time Warner?
President Obama's Doctor: Clinton Needs 'a thorough neurological examination'
President Obama's OWN medical doctor said on CNN that Hillary Clinton needs, "a thorough neurological examination."
Obama's doctor says Hillary needs, "a thorough neurological examination"

Details: https://t.co/84R7c04GcE pic.twitter.com/Qt1GJv16Jf

— Harlan Hill (@Harlan) August 31, 2016
Paul Joseph Watson, writer for controversial Prison Planet has raised concerns about Clinton's health as depicted in this video:
Clinton used to travel in a bus, but now is seen traveling in a custom van.
Sick Hillary travels in a handicapped accessible bus. Sources say SS spent $500,000 retrofitting vehicles for her. pic.twitter.com/cvjZKFfvar

— Mike Cernovich (@Cernovich) August 29, 2016
Hillary Clinton has had bizarre episodes such as this:
This woman isn't right. Something is off. pic.twitter.com/HXC2Vr3Pwa

— Jason Bergkamp (@keksec__org) July 29, 2016
Not a Conspiracy
All of this, according to some Clinton supporters is the "Far Right's Obsession with Hillary's Health." On September 9, 2016, a writer for the Washington Post asked if 'we could just stop talking about Hillary's Health.' The same writer published another article reversing himself just five days later. Now, he says Hillary's Health is 'a real campaign issue.'
A poll discussed by PRI Newswire, said that of the 71 percent of 250 physicians surveyed felt that Clinton's health was "serious."
Conclusion.
I have no medical qualification so my view on this is no better than any other. A real conclusion must be investigated and vetted thoroughly my medical experts. Based on various analysis by medical and non-medical opinions and personal care and observational experience of some similar symptoms, it is possible Secretary Clinton could have complex issues such as Parkinson's Disease, and perhaps early Alzheimer's Disease (Seven Stages). The condition seems to be more frequent now compared to say in 2005-2012.
I would argue that is seems to be too much of a stretch to blame all of the above on a "stomach virus" and "dehydration." based on the Clinton's history I don't think they are being honest about Hillary's health.
Hillary Clinton became quickly confused this year when multiple reporters asked questions at the same time – which is common for public figures.
These are not things one should wish upon anyone. Clinton should consider focusing more on her health. I am concerned that her ego and drive could sacrifice her health and thus ability to have clear mental and physical capability to manage the extraordinary high stress job as President.
_____________________________________________________________________
Images and video may be copyright by their respective owner(s) where indicated or known. original content copyright © 2016 NetAdvisor.org® All Rights Reserved.
NetAdvisor.org® is a non-profit organization providing public education and analysis primarily on the U.S. financial markets, personal finance and analysis with a transparent look into U.S. public policy. We also perform and report on financial investigations to help protect the public interest. Read More.
_____________________________________________________________________
Related posts: