California's 930 New Laws Does Little to Help Citizens or the State's Economy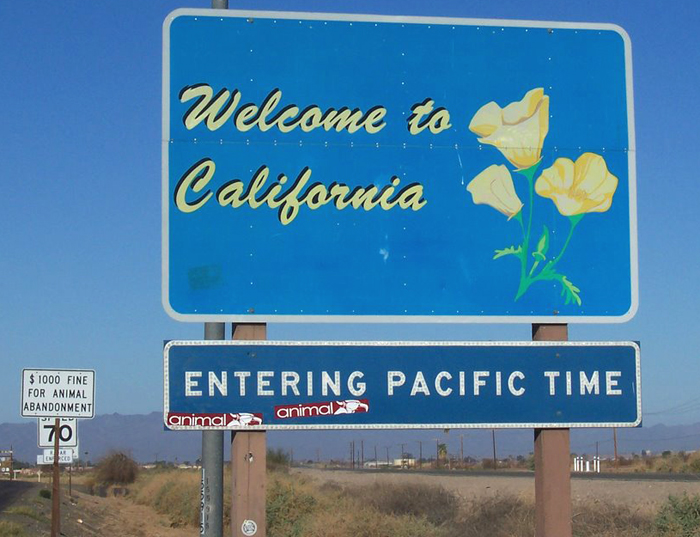 California's 930 New Laws Does Little to Help Citizens or the State's Economy
original article written by Net Advisor™
SACRAMENTO, California. The State of California will add some 930 new laws in effect beginning 2015. One of the more controversial laws is allowing driver's licenses for illegal aliens, a measure that got a previous Governor Gray Davis (D) recalled in 2003. Progressives in the state's leadership have since made California a sanctuary state, ignoring adherence to federal immigrations laws by allowing an untold number of "non-violent" illegal aliens to stay in California.
In 2013, the new driver's licenses for illegals was passed by a Democrat-controlled legislator and signed into law by Governor Jerry Brown (D) under the Safe and Responsible Driver Act (AB60). Reportedly, some 1.4 million illegals in the state would be eligible for driver's licenses.
Some have called California a "Nanny State" which more laws and regulations have done nothing but export jobs and working people to other states such as Texas. Over the last 30 years about 10 percent by today's population standards or 3.5 million people have fled California citing poor business climate, high taxes and bad government. Many businesses have left the state. Toyota Motor Company decided to move its North American Headquarters to more business friendly Texas.
But don't let more jobs losses, having the third highest unemployment rate in the USA, or a 22% drop in tax revenue from people leaving the state, stop progressive politicians from making California a more difficult place to earning an income, run a business, buy a home, or raise a family.
California progressives seem more concerned about supporting new welfare programs for an illegal population. Several new laws under "Immigration" (below) discuss how the state is helping taxpayers fund a lifestyle for illegals, and how progressives circumvented a "save our state" voter referendum law passed in 2004.
Governor Jerry Brown (D) reportedly vetoed 143 bills that would 'cost the state too much money, did not improve the state, or created unnecessary regulations.' All of these bills are new regulations, will costs the citizen taxpayers including businesses money, and one can debate which laws actually will or will not improve the state.
None of the new California laws appear to address the higher unemployment in the state, the state's debt, reform welfare or entitlements, address the busted state employee pension system, and instead address more important matters such as how chickens live, where dogs can eat, and where can a mother of a newborn breastfeed at an airport.
Here is a sample of new California laws for 2015 (with commentary).
1.

Good News for Drug Criminals?
Move over illegal aliens, even criminals get a break in the state's new 2015 law.
"Those convicted of possessing crack cocaine for sale, who previously could be sentenced to three to five years in jail, now face two to four years — the same penalty applied to offenses involving powder cocaine."
There is nothing like living in a state that cuts jail time for slinging crack to kids?
2.

BABIES
"Breast feeding: Large airports in California must provide, behind the security screening and separate from restrooms, a room where women can express breast milk."
Although this is a natural act and there are ways to make this more private if necessary, but was this a real top priority of legislation for the state?
California already has existing laws on the books including one that allows a nursing mother to breastfeed basically anywhere and anytime (Cal. CC. §43.3).
The co-author of the breastfeeding bill is CA. State Senator Kevin de León (D-Los Angeles). Sen. Leon seems to have taken a big interest about breastfeeding as he sponsored a bill about breastfeeding in hospitals.
This Nanny State Senator also sought to ban flat bed sheets at hotels, and demanded "long-handled tools like mops and dusters so housekeepers do not have to get down on their hands and knees to clean bathroom floors."
To our discovery, breastfeeding is big business. There is an entire coalition in California on breastfeeding and rights. There is even a "breastfeeding summit" in 2015.
All we can say is moms, if nursing a baby, don't worry about what others say about breastfeeding in public, you are doing a great job.
3. "

DINING & FOOD"
(1). "Restaurants will have the option of allowing dogs on outdoor patios."
A growing trend of people having dogs instead of kids have apparently lead to the passage of this critical law?
(2). "Cage-free California: Starting Jan. 1, all egg-laying hens raised in California must be able to stand up, lie down, turn around and fully extend their wings in humane living conditions."
Eggs prices could increase "10 and 40 percent higher in California." Even though the new law gives the birds more room to scratch, it does not prevent the use of hormones, drugs or other antibiotics, pesticides used in chicken feed, or in the chicken.
In my local major market I have already seen about a 10 percent increase in egg prices including on eggs that are already "cage free/ fully free range)," and were complaint years before this law was passed. Just another reason for the state to increase food costs on consumers.
4. "

EDUCATION"
(1). "Bad behavior: Schools can no longer expel students who "willfully defy" teachers or administrators at any grade level and cannot suspend students for that misbehavior through third grade."
So now all the poorly misbehaved trouble-making students are now protected by the state to continue to be a problem for teachers and other more well-mannered students. Disruption in the classroom may continue?
(2). "Consent: Colleges and universities must adopt a standard of clear consent for students engaging in sexual activity. "Affirmative consent" is required by both participants."
Sexual activity in all U.S. states require mutual consent of legal ages in the respective states. But as a student, this new law with good intention sounds as if college students who want to have sexual relations with each other should probably now have it in writing, in advance, and have their own lawyers review the agreement to cover what type of sex is agreeable, location, times and frequency of occurrence.
There could be a legal issue here where 'spontaneous mutual sexual consent,' could arise as an oral agreement, as opposed to a written agreement. If such spontaneous oral agreement deviates from the prior written sexual agreement, a court may later determine who violated the agreement, and how much the other party may sue for "damages?" Obviously there must be evidence presented in these cases such as video, so the court could clearly see who violated the sexual agreement, when and how?
(3). "Equality: Public schools must publish the number of girls and boys participating in each sport to show whether the sexes have the required equal access to athletic programs."
Going to take a wild guess at this one: Football, mostly boys. Volleyball, mostly girls?
(4). "Genocide lessons: State education officials must consider incorporating lessons about the Armenian genocide and other mass killings, such as those in Rwanda and Darfur, into curriculum standards that will be updated in 2015. Lessons about genocide should include oral testimony from survivors, rescuers and witnesses."
Of all the things that the state needs to teach in schools such as math, reading, writing which are poorly lacking from a success standpoint (Report, PDF P117), we need to insure that "Armenian genocide" and "mass killings" are taught in school?
5.

ELECTIONS
(1). "Ballot initiatives: Proposed initiatives may now be amended after signed petitions are submitted, during a 30-day public-review period."
So next time you are at the store, and sign a petition, after you have left, that petition could be changed to suit another narrative? With 30 days of public review which no one is really going to notify all the signers, one could have agreed to something that was other than they thought. Then the matter is voted on?
(2). "Voter registration: Eligible Californians cannot be disqualified from registering to vote on the grounds that they sign the required affidavit with a mark, cross or signature stamp."
In other words those who probably can't read or write including their own name, should just put a "X" or any other mark deemed as their signature when it comes to voting. There is no chance of voter fraud with that kind of signature?
6.

ENVIRONMENT
(1). "Fracking: Oil and gas companies must report the amount of water used in drilling operations that involve hydraulic fracturing, or fracking — a procedure in which water mixed with sand and chemicals is injected into rock."
This action will create another reason why the state will try and ban fracking. The state could determine that too much water is being used for fracking, and given the current drought, the state will regulate the use of water to the point where fracking is impossible, thus killing both the industry and more jobs in the state.
(2). "Frogs: The California red-legged frog (Rana draytonii), recognized by the federal government as a "threatened" species, becomes the official state amphibian."

Any frogs in (oil) fracking areas, could result in a fracking ban, and a ban in any other economic activity that could actually improve the state's condition. Rest assured, the frog takes legal precedent over your state's economy.
7.

FOOD
"Gardens: Landlords may not prevent residents of condominiums and apartments from growing their own fruits and vegetables in portable containers."
If you own an apartment complex or condo, the state now governs what can happen on your property and you have to like it.
8.

GUNS / FIREARMS



(1). "Courts: Courts must report to the state Department of Justice within one business day when a person becomes barred from having a firearm."
Note this new law does not prevent a criminal from stealing or purchasing any weapon off the street. No law will ever prevent a criminal from using any weapon. Tougher and consistent prosecution laws might make a criminal think twice before using a firearm in the commission of a crime.
(2). "Toy weapons: In response to law enforcement shootings of minors brandishing toy guns, manufacturers now must make the toys brightly colored so officers can easily distinguish them from real firearms."
Of the few toy guns still being produced (imported), most toy guns if not all toy guns are already colored in bright orange, green or similar bright colors. So the first thing the gangs will do is color their guns bright orange or green and say, 'see you can't shoot at us because we might have a toy gun?'
If one draws a gun on a police officer, the odds are the officer will draw their gun too, and not spend 10 minutes determining from an unspecified distance whether or not the gun pointing at them might be a toy. Lesson here: Don't point even toy guns, especially at police officers.
9.

IMMIGRATION
(1). "Insurance: Immigrants with state driver's licenses are eligible for California's Low Cost Auto Insurance Program, even if they reside here illegally. A 2013 law that takes effect Jan. 2 allows specially marked licenses for undocumented residents, and a separate new law prohibits employers from discriminating against anyone with such a license."
Illegal aliens in the California will already have access to driver's licenses under (AB60). Now the state will create another welfare program by redistributing money from lawful citizens to fund 'low cost' car insurance for illegal aliens. Sorry, if you are a legal resident of California, you don't get to apply for lower cost auto insurance. You have to be here illegally to qualify, but you're paying for it just the same.
(2). "Professional licenses: Those in the country illegally will no longer need a Social Security number to obtain state licenses to work as doctors, dentists, nurses, barbers, security guards or for many other jobs."
No social security number needed for illegals to obtain licenses to practice as a medical or other professional? Will a tax ID be required or are we exempting illegal aliens from taxes too, but allowing them to practice medicine and hold other jobs?
(3). "Proposition 187: State law books will be stripped of provisions in the 1994 ballot measure that would have withheld public services from those in the country illegally but were ruled unconstitutional."
The majority of the State of California (map above marked in green) supported and passed Prop 187 in Nov. 1994. The idea was to block illegal aliens from taking state's resources (welfare, education costs, healthcare costs, etc). The red area (map) is also heavy illegal alien farm population and that red area voted, 'no' on prop 187. In 2015, the state has now reversed the remains of the voter mandate without a vote.
Back then, California state government stopped all appeals to the law after lawsuits. A judge suspended all aspects of the ballot-voter-backed initiative except upholding higher-education and document provisions relating to illegals. Two Democratic governors later stripped the remainder of the law. Thus whatever the voters unanimously vote on, it may not count if the state or a single judge doesn't agree with the majority of voters?
(4). "Student loans: Immigrants residing in the country illegally are eligible to apply for student loans funded by the state to help them attend University of California or California State University campuses."
This is more welfare of illegal aliens. ANYONE in the USA illegally can now come to California and apply for taxpayer funded loans for higher education. The state also made it legal for illegal aliens to practice law in the state. The result could include more illegal aliens pushing for legislative and other changes in a state or country where they are not here legally. That sounds fair to the citizens of the state?
10.

JUSTICE SYSTEM
"Truants: Confinement in a juvenile detention facility, or juvenile hall, is no longer allowed as a penalty for minors who are found in contempt of court solely for failing to obey a judge's order to attend school."
Minors in contempt of court for failure to attend school, penalty is hereby removed by the state. So, instead, send them home where they will join in neighborhood gangs and not go to school anyway? That will teach 'em!
11.

PRIVACY
"Students: School districts collecting information on students through social media are limited to data involving student or school safety. Districts must allow parents to review and correct any such information collected."
When did schools begin spending time privately collecting data from social media on their students? Didn't know schools were now in the spy business too.
12.

SEX AND GENDER
"Births: Same-sex couples are allowed to identify themselves on state birth certificates as "father," "mother" or the new gender-neutral option of "parent.""
Just trying to understand this one. If you are a man, you can claim on a child's birth certificate that you are a mother. If you are a women, you can claim on a child's birth certificate that you are a father. No confusion here? "Parent" might be the more suitable description.
13.

SHOPPING
"Banning plastic bags: Starting in July, plastic bags will no longer be used at large grocery stores and supermarkets like Wal-Mart and Target, unless for packaging fruits, vegetables and meats. A minimum 10 cent fee will be added per paper bag used. More than 100 counties and cities in California already have similar laws in place, but business groups are trying to fight the ban and have enough signatures to put their referendum on the November 2016 ballot. If the referendum qualifies, the statewide ban will be put on hold."
Solution here is to cut down or stop shopping at stores that charge you to bag the things you buy even if the state forces the 10 cent per bag tax. What liberal legislators don't seem to understand is that businesses are not being taxed, it's the consumer who is being taxed or punished.
This is where this law is comical. The idea of banning plastic bags is to help save the environment. So instead, we are going to chop down more trees to make paper bags, and that is somehow going to save the environment? Got it.
14.

TRANSPORTATION
"Bike trails: Local agencies, including cities and park districts, may place proposals on the ballot that, if two-thirds of local voters approve, would impose a vehicle registration surcharge of up to $5 to develop and maintain bikeways."
Because there is nothing like taxing motorists for bike trails. For anyone who has followed how these new taxes work, they start low, then every year they go up and up and up with no further vote by the people.
__________________________________________________________________________
New CA Law Sources: ABC News, Los Angeles Times, San Francisco Gate, copyright by their respective owners. Images/ graphics may be subject to copyright by their respective owners.
original article content copyright by Net Advisor™ © 2015 NetAdvisor.org®
NetAdvisor.org® is a non-profit organization providing public education and analysis primarily on the U.S. financial markets, personal finance and analysis with a transparent look into U.S. public policy. We also perform and report on financial investigations to help protect the public interest. Read More.
__________________________________________________________________________
Related posts: