Is ObamaCare Killing Jobs?

Is ObamaCare Killing Jobs?

original article written by Net Advisor™
WASHINGTON DC. The non-partisan Congressional Budget Office (CBO) said this week that the "Affordable" Care Act (ObamaCare) will reduce two million full-time workers in coming years.
"The Affordable Care Act will reduce the number of full-time workers by more than 2 million in coming years, congressional budget analysts said Tuesday in the most detailed analysis of the law's impact on jobs."

— Source: The Washington Post
Retail giant, Target announced last month that it would terminate healthcare coverage for 10 percent of about 36,000 part-time workers. Other companies are cutting back and consumer retail sales suffered its worst holiday season in four years.
A university report (Official: ACA Employer Survey, PDF) found that companies are "opting out of hiring and cutting work hours" due to ObamaCare. The report said Obamacare has cost Michigan at least 1,000 jobs. With the inflexible healthcare law, companies are dropping coverage or reducing work hours because of ObamaCare costs.
President Obama bypassed Congress, and unilaterally delayed enforcement of the Employer Mandate until after the 2014 Mid-term election. Obamacare is expected to downsize the U.S. labor force which is already at its worst levels not seen in 35 years [Report, Point 4].
Millions of Employees Will Lose Their Company Health Plans: CBO
The CBO said 6 to 7 million people per year will lose their employer-based healthcare coverage from 2016-2024.
"CBO and JCT project that, as a result of the ACA, between 6 million and 7 million fewer people will have employment-based insurance coverage each year from 2016 through 2024 than would be the case in the absence of the ACA.

That change is the net result of projected increases and decreases in offers of health insurance from employers and changes in enrollment by workers and their families."


— Source: Congressional Budget Office [2014-2024 Budget and Economic Outlook, Appendix B, p111, PDF]
If the CBO's projections are correct, this works out to be 48-56 million people who will lose their employer sponsored health insurance because of ObamaCare.
In 2013, the CBO estimated that "only" 7 million people would lose their employer's health plan (Kaiser Report). This 7 million estimate was double the previous estimate. This begs the question: Is the 2016 or later estimate going to be double the 2014 estimate too? If so we could see 100 million people lose their company health plans thanks to ObamaCare.
Killer Taxes
The Heritage Foundation cited the CBO Report that also said employer mandated tax penalties is expected to reach $203 billion from 2015-2024, while individuals without insurance will end up paying $51 Billion in penalties over the same period.
Most of the Younger Uninsured Will Still be Uninsured by 2024
Heritage writes: "After spending nearly $2 trillion to expand insurance coverage, Obamacare is still projected to leave 31 million people uninsured in 2024."
According to the CBO and JCT:

"31 million nonelderly residents of the United States are likely to be without health insurance in 2024…"

— Source: Congressional Budget Office [2014-2024 Budget and Economic Outlook, Appendix B, p107, PDF]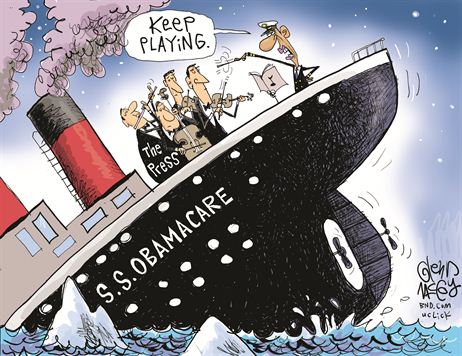 Democrats: Losing Jobs Under ObamaCare is a "Good Thing?"
If losing your healthcare plan due to ObamaCare's unfriendly laws wasn't enough, a ranking Democrat says losing your job is a good thing too.
CBO chief Douglas Elmendorf testified before the House Budget Committee. Elmendorf said the Affordable Care Act (ObamaCare) "creates a disincentive to work." A ranking Democrat responded with the idea that losing your job is really a "good thing." 
"(Losing jobs) That is not a bad thing. It's a good thing," (Van Hollen) said, suggesting that most of the eliminated employment would consist of older workers who would be able to retire early without losing their health benefits.

— House Budget Committee Chris Van Hollen (D-Maryland).  Source:

DailyMail.UK
The way this works outside of Fantasyland, is that losing a job is not a good thing, and our economy is not based on the average 85 year-old worker. ObamaCare has become the
train-wreck
that its Democrat author came to realize.
____________________________________________________________________________
Images may be copyright by their respective owner.
Original article content, Copyright © 2014 NetAdvisor.org® All Rights Reserved.
NetAdvisor.org® is a non-profit organization providing public education and analysis primarily on the U.S. financial markets, personal finance and analysis with a transparent look into U.S. public policy. We also perform and report on financial investigations to help protect the public interest. Read More.
___________________________________________________________________________
Related posts: