Will Arming Syria Be Another Big Mistake?

06.15.2013
Will Arming Syria Be Another Big Mistake?
original article written by Net Advisor™
DAMASCUS, SYRIA. The Middle-eastern country of Syria has been in a two-year long and brutal civil war, but then again what war in history has not been brutal? Some 93,000 people have been reportedly killed. Syria is located South of Turkey, East of Iraq, and borders with Israel and Jordan.
[1] Nobel Peace Prize?
With less than 9 months in his first term, President Barack Obama won the Nobel Peace Prize in October 2009. Mr. Obama said this was a "call to action".
We're not exactly sure what "call to action" means, unless it meant to increase troop activity and start new wars.
The Obama Administration has increased U.S. troops in Afghanistan, and Pakistan; engaged in a civil war with Libya to oust the tyrant dictator Muammar Qadhafi; sent some 3,000 U.S. troops all over Africa [Report, Point 14]; has increased weapon sales such as guns and U.S. military aircraft to Egypt. U.S. taxpayers gave $3.2 Billion to Egypt in FY2012-2013. The Congressional Research Service found that most of the money the U.S. gives to Egypt goes to build their military.
Now hold on to what's left of your wallet, look what Egypt said this week:
EGYPT: Magdi Ahmad Hussein, Chairman Islamic Labor Party knowingly and openly spoke down against U.S. and Israel as "enemies" on live TV on 06-13-2013 as the U.S. sends $ billions to Egypt each year, mostly to increase Egypt's military power.
Egypt is pretending to be our ally, and wouldn't you for a few billion dollars a year? Publicly, the U.S. "has" to say we need Egypt and their support. Truthfully, there is nothing in Egypt that the U.S. "needs."
A 2007 Snoops report analyzed voting records against the USA held at the UN. In Egypt's case, they have tended to vote against UN policies that were supported by the United States 86% of the time. And the U.S. is dumb enough to keep giving them and countries like them money, who just are not in alignment of U.S. policies.
Now we know were Egypt really stands, let's get back to this idea about the U.S. arming "rebels."
[2] Does the U.S. Really Know Who the Rebels Are?:
Number of Libya Rebels Tied to AL-Qaeda
The Obama Administration approved $40 Billion in private arm sales to Libyan rebels and to Egypt. With respect to Libya, there have been strong ties of U.S. and UN-backed Libyan rebels to AL-Qaeda.
"Abdel-Hakim al-Hasidi, the Libyan rebel leader, has said jihadists who fought against allied troops in Iraq are on the front lines of the battle against Muammar Gaddafi's regime."

— Source: Telegraph.UK (Read More: Our Report)
Al-Qaeda is the same terrorist organization the U.S. has been fighting for over a decade at a cost of some 225,000 lives and nearly $4 Trillion from U.S. taxpayers (Report, Point 5).
Libya's Civil War started February 15, 2011 in a city called, Benghazi. After President Gaddafi was killed by (US-NATO-backed) rebels, violence in Libya did not end – it was just the beginning.
The U.S. suffered a terrorist attack in Benghazi on 09-11-2012 where no one has been tried in this attack. Despite President Obama's pledge of "finding out who was responsible and to bringing them to justice," the Administration has since called the U.S. House Committee on Oversight and Government Reform on Benghazi a "side show" [Please see our Reports on Benghazi].
Recently, local TV media was under attack in Benghazi, and so called "protestors" have clashed with Libya's militia where 31 have been killed.
There have been some 19 attacks on U.S. Embassies since Mr. Obama took office. No one has been held accountable for the attacks.
Mr. Obama has reminded us twice in 2010 and in 2013 that the "War on Terror" is "over." In fact there seems to be a move by the Administration to avoid using the word "terrorist" now.
[3] Does the U.S. Really Know Who Are the Rebels?:
Number of Syrian Rebels Tied to Al-Qaeda
The Syrian rebels openly admit that they have aligned themselves to Al-Qaeda (terrorists). This does not seem to be a concern for the Obama Administration who has pledged to arm these 'rebels."
"A Syrian rebel group's April pledge of allegiance to al-Qaeda's replacement for Osama bin Laden suggests that the terrorist group's influence is not waning and that it may take a greater role in the Western-backed fight to topple Syrian President Bashar Assad."
Keep in mind that the U.S. will have no control over who will end up with taxpayer financed weaponry, nor will those weapons ever be returned to the U.S.
[4] Red Line in the Sand: The Set Up
The Obama Administration set themselves up for this event by stating if Syria's leadership used chemical weapons against its people (that would include the rebels — and as we now know that so happens to include the Al-Qaeda terrorists), then Syria would cross a 'red line' in the sand.
Since then, British, Israeli, French intelligence and the United Nations have all suggested that Syria's Assad has been using chemical weapons. The White House was at first resistant to accept that Syria was using chemical weapons. Now the Administration concurs this belief (White House full statement on Syrian chemical weapon use).
British Middle-Eastern Correspondent, Richard Spenser said that Syria has sucked President Obama into this war.
"Some wars you choose, but some wars choose you. Was there ever better illustration of this oft-repeated wisdom than Syria's slow sucking in of President Barack Obama."
President Obama is reportedly seeking to "build consensuses" with the G-8 Nations over Syria.
[5] Syria: It's All About Religious Differences
Now that the red line in the sand has been crossed, what is the Obama Administration to do? The Syrian "rebels" say they want heavy weapons and not small arms. Who are we arming? The war in Syria is fundamentally a religious war.
"Syria's President Bashar al-Assad belongs to the Alawite sect of Shiite Islam, while the divided rebels fighting to oust his regime are mainly Sunni Muslims, including the jihadist Al-Nusra Front."

— Source: Telegraph.UK
The conflict in Syria, like most (if not all) conflicts in the Middle-East, again center around religion.
"Syria's (largely Sunni) rebels say hundreds if not thousands of (Shia) Hezbollah fighters are now fighting for the Assad regime. Hezbollah's secretary-general, Hassan Nasrallah, said last week that his party would not stand by and watch the Assad government fall."

— Source: CNN
Iraq is no different either. The civil war in Iraq is racially tied between the religious differences of the Sunni's and the Shiites where 1,000 people killed just during May 2013.
[6] Religious Wars in the Middle-East: "It's an old Story"
The Sunni's (Sunni Islam) and the Shiites (Shia Islam) have been fighting for over 1,000 years. The main conflicts between the two groups is fundamentally based on their different views of Islam.
The U.S. and Western allies need to keep in mind that this is not some mercy mission. This is a war that will never be won, because the opponents have opposing religious arguments that cannot be negotiated.
[7] Proxy War: Who Are the Players in the Syrian War?
The Syrian War will have an interesting mix of bedfellows if the U.S. and Western allies get involved. Here are the parties and what side they are supporting – are you sitting down for this?
Anti-Assad Government

United States
United Kingdom
France
Syrian 'rebels" which include the Al-Qaeda (terrorist organization)
Pro-Assad Government
The Syrian government
Russia
Iran
Lebanese terrorist organization, Hezbollah
[8] U.S. Arming Al-Qaeda to Overthrow Assad?
There are two or more different goals in Syria depending on who you talk to. The United States government and the ("good") rebels want a free Syrian state, and free elections.
The ("bad") rebels (Al-Qaeda supporters) want to establish an Islamic state. Both rebel groups are working together to overthrow the Assad government.
The problem is, once Assad and his government is gone, one can pretty much bet that a fight between the two major rebel groups will then ensue; and a new civil war will be ongoing just like it is in Iraq.
Ayman al-Zawahiri, Al-Qaeda's replacement leader since Osama bin Laden's death, has called on his radical jihadist organization to defeat Assad's Syrian government, and create an Islamic state.
"Al-Qaeda's high command staked its interest in the outcome of Syria's civil war yesterday as its leader, Ayman al-Zawahiri, called on jihadist fighters to build an anti-Western state after toppling (Syrian President) Bashar al-Assad."

— Source: Telegraph.UK
Al-Zawahiri's next move after is to wage all-out war with neighboring Israel. The Obama Administration only wants to support the rebels and not (Al-Qaeda) terrorist organizations. Good luck with that one. Try and identify what a rebel looks like and what an Al-Qaeda terrorist might look like.
Just to make this perfectly clear, Western Allies including the United States AND Al-Qaeda all want the same outcome of getting rid of the Assad's government, so the U.S. will arm the "rebels" to do this. An unknown but significant number of Syrian (Al-Qaeda) rebels had experience fighting the U.S. in Iraq. They bring this experience to Syria to overthrow Assad.
"…al-Qaeda-linked factions are now dominant in the rebel frontlines (in Syria)…they bring both better weapons and battlefield experience honed in Iraq."

— Source: Telegraph.UK
Syrian President Bashar al-Assad denied that there even was a civil war going on in his country last November 2012.
[9] What Can the UN, G-8 and the U.S. Do? Probably Just Make a Bigger Mess in Syria
There is no way of knowing, nor guaranteeing that U.S. financed weapons will not end up in Al-Qaeda's hands, which could be used against U.S. troops elsewhere.
One can't tell the difference between a Syrian freedom fighter and a Syrian Al-Qaeda freedom fighter. If the U.S. arms the "rebels" the U.S. would be supporting a known terrorist organization they are have been fighting for over 10 years world-wide.
Even if the "rebels" win, which they could give unlimited support, then what? A new Civil War between the rebels own government and Al-Qaeda gaining control to establish an Islamic state.  Who will control Syria's chemical weapons is also a bit disconcerting.
The U.S. needs to be clearer about what specifically are its objectives?
How is Syria important to U.S. interests?
What happens after we win against Assad? Will it become like Iraq and Libya? – A New civil war? How do we know it won't?
What is really going on in the Middle-East, and who is really behind the (proxy) wars the U.S. is fighting? (Hint: Iran)
The U.S. might want to figure out how it can reduce or eliminate the threat of chemical weapons from getting in the hands of terrorists organizations, or from anyone for that matter. The U.S. may seek an UN resolution for an arrest of Assad for chemical weapons use against its people. If Assad fails to heed and end the war, submit to arrest and subsequent trial, the U.S. via NATO can take out Assad via the air, land, and with sea-based missiles.
[10] What the U.S. Should Avoid Doing in Syria (or anywhere else)
What the U.S. should avoid at all costs is put "peacekeeping" forces in Syria after the war. This never worked in Iraq or Afghanistan. The U.S. or under UN or NATO flags will have to be there forever. All this would do is make U.S. and allied soldiers target practice for both Al-Qaeda and Hezbollah, financed by Iran and possibly Russia.
Suddenly, you would have two terrorists' organizations on the same side fighting you – again. Worse, and more likely than not, these terror organizations would be using weapons that the U.S. gave them like they did in Iraq, Afghanistan, Libya, and now Syria.
The U.S. can fantasize that arming rebels in Syria has nothing to do with arming Al-Qaeda rebels in Syria. The U.S. held this same fantasy with the Taliban in Afghanistan. Vice President Joe Biden said that the very people who the U.S. was fighting in Afghanistan are really not the enemy:
"the Taliban per se is not our enemy."

— U.S. Vice President Joe Biden said (Report)
Since then, and (coincidentally) one day before the 9/11/2012 terrorist attack in Benghazi, the U.S. released 3,000 suspected Taliban prisoners back to Afghanistan's (corrupt) authorities (Report). The U.S. has engaged the Taliban since after 9/11/2001. So keep in mind that arming Syrian 'rebels' means arming Al-Qaeda too.
[11]

Obama Administration: Just Bring Syria and the Middle-East to the United States?
The Obama Administration has apparently been considering to allow up to 1.6 MILLION Syrian and other Middle-Eastern "refugees" to come to the Unites States.
"A resettlement plan under discussion in Washington and other capitals is aimed at relieving pressure on Middle Eastern countries straining to support 1.6 million refugees, as well as assisting hard-hit Syrian families."


"The State Department is "ready to consider the idea," an official from the department said, if the administration receives a formal request from the United Nations Office of the High Commissioner for Refugees, which is the usual procedure."
WHAT? If you want to expand massive welfare, burden existing taxpayers with more ObamaCare costs, and help destabilize the U.S. this is the plan.
Let's just pretend that the Obama Administration somehow does this massive illegal immigration program from the Middle-east. It doesn't take a high school education to figure out that countless numbers of radical Islamists would gain Obama approved entry into the United States. They would just filter in that same "refugee" group only to set up terror cells in the U.S. for future use.
This group has no money, no education, no jobs and government will be there to tax countless billions from working Americans so they get their "fair share." Arguably, this would be the worst foreign policy move in the history of the United States.
Even Russia has taken a more aggressive approach to how they deal with Islamic extremism.
"We must fight back hard against extremists who, under the banners of radicalism, nationalism and separatism, are trying to split our society…"

— President Vladimir Putin said on 06-07-2013 (Source: Reuters)
Russia detained some 300 what it calls Muslim "extremists" to check for extremist literature  ahead of  next year's Winter Olympics in Sochi. Russia did warn the U.S. in advance about Tamerlan Tsarnaev a year before the Boston Marathon terrorist attacks. The U.S. did not see the now known Islamic extremist "Boston Bomber" as a threat.
One would never see the U.S. rounding up Islamic extremists, so the Obama Administration now seems to be opening the door (U.S. border) to ANYONE called a "refugee" in the world.
Recently, the Democrat controlled Senate, DEFEATED the U.S. border security provision in the immigration bill.
"Senators defeat border security provision of immigration bill"

— Sources: AP and Detroit News
What this message says to America is the (D) Controlled Senate was never interested in U.S. border security. Arguably, their motive is new voters to keep themselves in power and support radical left agenda that will do nothing but put more risk to the U.S. economy and the deficit.
If you want to "fundamentally transform America" into a 3rd world county, this is it.
The U.S. simply can't support its own people now, let alone opening the door to support 1.6 million more people or a good fraction of that. Some will infiltrate in the U.S. with ulterior motives.
Let's take a look at what DHS has found.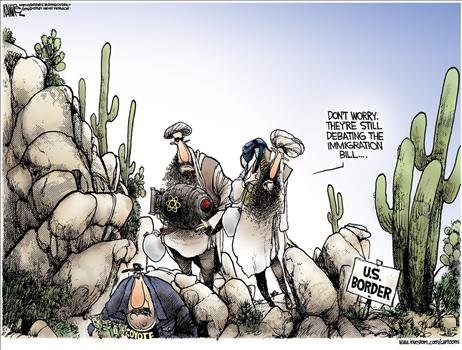 [12] DHS Findings Show Risks at the U.S. Border
In 2011, the Department of Homeland Security (DHS) released an immigration report where U.S. Border Patrol and ICE captured over 17,000 people who were from countries other than Mexico, Latin America, South America, or western islands. DHS called this persons of "Special Interest."
We do not know how many persons of "Special Interests" illegally came into the U.S. from the Canadian or Mexican borders. The report also noted that there was over 1 million people where DHS did not know the gender of people coming in (Source: DHS 2011 Report, Page 80, Table 29). There were over 5 million people who came into the U.S. where DHS had no idea where they were planning to go (Source: DHS 2011 Report, Page 81, Table 30).
We do have a legal immigration system. Some say the U.S. immigration is "broken" because we have too many illegals in the U.S. It's not that it's broken, it's not efficient. There is a lack of border security and checking (interviewing) incoming newbies into the U.S.
Reports: 
Just through September 17, 2012 the Heritage Foundation reported that there have been at least 52 publicly known terror plots against the U.S. since 9/11.
"With the bombing attempt by Adel Daoud (in Chicago), at least 52 publicly known, Islamist-inspired terrorist plots have been thwarted since 9/11 (2001)"
For the Obama Administration to consider opening the U.S. borders to the Middle-East under some massive humanitarian "refugee" claim, the U.S. just increases the risk of domestic terror attacks by Al-Qaeda, Hezbollah, and other infiltrators.
[13] The Underline Problem is Iran's Subversion Against the U.S. & Allies
The U.S. really should consider being more proactive at Iran who is financing and aggressively waging war against the U.S. by supporting anti-U.S. terror groups as they have in Iraq, Afghanistan, North Africa and now in Syria. Iran's activity as a state sponsor of terrorism has soared in 2012.
"Iran and Hezbollah's terrorist activity has reached a tempo unseen since the 1990s, with attacks plotted in Southeast Asia, Europe, and Africa," it said. Those included an attack on a bus carrying Israeli tourists in Bulgaria that killed six, as well as thwarted strikes in India, Thailand, Georgia and Kenya.

— Source: CBS News, 05-30-2013
The U.S. should try and get Russia and China to put pressure on Iran. We would argue that Iran wants to see a destabilized Middle-East (Iraq, Syria, Libya, and Egypt), so it can gain more power and control over the Middle-east.
The U.S. has publicly done little to stop Iran's ambition to develop nuclear weapons. Despite nearly 10 years of "sanctions," [Report, Point 4] Iran is still expanding its nuclear program.
"The U.N. atomic agency on Wednesday detailed rapid Iranian progress in two programs that the West fears are geared toward making nuclear weapons, saying Tehran has upgraded its uranium enrichment facilities and advanced in building a plutonium-producing reactor."

— Source: CBS News, 05-22-2013
This will become a problem that the U.S. and its allies won't be able to hide from one day. In the mean time, the U.S. deals with Syria.
Additional Program Viewing:
The Battle for Syria (PBS Frontline)
Syria Behind the Lines
FRONTLINE explores the perilous reality of everyday life for Syria's rebels and its regime (04-09-2013)(53:41 min.)

Watch Syria Behind the Lines on PBS. See more from FRONTLINE.
The Battle for Syria
FRONTLINE journeys into the heart of the Syrian insurgency (09-18-2012) (27:00 min.)

Watch The Battle for Syria on PBS. See more from FRONTLINE.
______________________________________________________________________________
See more reports in our foreign policy archive

image / graphic credits: where noted. Videos Courtesy: Frontline® at PBS.org
Original Content Copyright © 2013 NetAdvisor.org® All Rights Reserved.
NetAdvisor.org® is a non-profit organization providing public education and analysis primarily on the U.S. financial markets, personal finance and analysis with a transparent look into U.S. public policy. We also perform and report on financial investigations to help protect the public interest. Read More.
___________________________________________________________________________
Related posts: