1,000+ Army Special Forces Says 'Americans Should Be Concerned' About Gun Control

01.30.2013
1,000+ Army Special Forces Says 'Americans Should Be Concerned' About Gun Control
original article written by Net Advisor™
QUANTICO, VA. Gun Control issues continue debate in the U.S. The political left are under the impression that passing a law for further regulating, limiting or banning certain guns will magically reduce violence. Millions of U.S. citizens are concerned about increased risk of tyranny and protection of the U.S. Constitution's Second Amendment.
[1] Current and retired U.S. Army Special Forces, Army Reserve, and the National Guard have now spoken out in concern about gun control policies and say Americans should be concerned. The letter begins stating that the military have all sworn an oath to protect and defend the U.S. Constitution against all enemies foreign and domestic, and makes an argument to clear up some of the confusion that surrounds gun control.
We have all taken an oath to "…support and defend the Constitution of the United States against all enemies foreign and domestic; that I will bear true faith and allegiance to the same…"

— Open Letter by U.S. Army Special Forces. [The four-page letter can be read here (PDF)]
A few other key notes in the letter include, "According to Bruce H. Kobayashi and Joseph E. Olson, writing in the Stanford Law and Policy Review, "Prior to 1989, the term "assault weapon" did not exist in the lexicon of firearms. It is a political term [underline added for emphasis], developed by anti-gun publicists to expand the category of assault rifles."
[2] The "AR-15" is Not an "Assault Rifle"
The U.S. military uses an M4A1 carbine – a full automatic weapon and is considered an "assault rifle." The AR-15 however is NOT an assault rifle. As the letter states, the term "AR" represents the first two letters in original manufacturers' name "ArmaLite Corporation."
The primary difference between the M4A1 carbine and Ar-15 are as follows:
Military only weapon – only issued to U.S. military under authority of  U.S. government.
Fully automatic weapon (pull and hold the trigger for continuous firing)
Fire Rate: 950 rounds per minute
U.S. citizen's hunting, target shooting, home defense model.
Cosmetic similarity to M4A1 carbine (looks similar but that's it)
Not

possible to configure an AR-15 into an M4A1 carbine.
AR-15 Fires ONE shot per pull of the trigger ("Semi-automatic")
Fire Rate: 45 and 60 rounds per minute "depending on the skill of the operator."
[3] Magazine Capability Won't Reduce Mass Shooting Incident
Military Special Forces also discussed that reducing magazine size would not reduce potential damage from a "mass shooting incident." The experts argue that it would only take an average of 6 to 8 seconds to switch from two empty 10 round magazines to full magazines.
[4] Great Britain's Gun Ban Has Not Reduced Gun Violence or Mass Shootings
The letter cites that Great Britain has one-fifth the population of the USA and their mass shootings are similar to the U.S.'s with the gun ban. After a mass shooting in Great Brittan in 1987 a new law passed in 1988 ("The Firearms Act") making national registration of firearms, and banning all semi-automatic guns and pump-action shotguns.
After another mass shooting in Great Britain in 1996, the Firearms Act of 1988 was amended to "ban all private ownership of handguns." All UK citizens had to surrender all firearms and ammunition. Since UK citizens are now unarmed, total gun crime increased by 65%. Apparently, the criminals aren't following the law. Just a helpful clue that is why they are called, "criminals."
The only people who were hurt by the firearms ban in the UK were lawful citizens.
[5] 97% of Violent Crimes in USA Are NOT Committed with Firearms
In December 2012 we reported that in the USA, "97% of the people involved in violent crimes were not shot with a firearm" [Point 13].
[6] U.S. Supreme Court Has Upheld the Second Amendment – Will That Continue?
The U.S. Supreme Court has ruled repeatedly to uphold U.S. Constitutional Challenge to attack the Second Amendment; Cases include: U.S. v Miller (1939), Printz v U.S. (1997), District of Columbia, et al. v Heller (2008).
The problem people of the U.S. could face is the Supreme Court could be tipped to a more liberal (anti-gun) representation. If this were to occur the implication on government verses its people would be the most dangerous move in U.S. history.
"The Anti-Federalists feared that the Federal Government would disarm the people in order to disable this citizens' militia, enabling a politicized standing army or a select militia to rule. The response was to deny Congress power to abridge the ancient right of individuals to keep and bear arms, so that the ideal of a citizens" militia would be preserved."

— U.S. Supreme Court Justice Scalia in re: District of Columbia, et al. v Heller (2008)
President Barack Obama has already named two more "Politically-Left" Supreme Court Justices to the 9-Member High Court. The High Court is not supposed to be partisan, but on high political issues, we have seen many rulings end in 5-4 with four members being of more conservative nature, four of a more liberal-left nature and one semi-independent nature.
[7] What You Probably Were NEVER Taught in School
The Special Forces letter also noted "The Battle of Athens, TN" (share link) (view as PDF). In 1946 Americans took up arms against their local government to defeat voter fraud, political corruption, intimidation by corrupt law-enforcement and to protect fair elections at the ballot box.
U.S. Special Forces said, "…this is precisely why all Americans should be concerned about protecting all of our right to keep and bear arms as guaranteed by the Second Amendment!"
Next, Special Forces also discussed an important process how tyrants in history have moved to disarm their citizens to gain power and control over their people.
"Throughout history, disarming the populace has always preceded tyrants' accession of power. Hitler, Stalin, and Mao all disarmed their citizens prior to installing their murderous regimes.

At the beginning of our own nation's revolution, one of the first moves made by the British government was an attempt to disarm our citizens.

When our Founding Fathers ensured that the 2nd Amendment was made a part of our Constitution, they were not just wasting ink. They were acting to ensure our present security was never forcibly endangered by tyrants, foreign or domestic."

— Open Letter by U.S. Army Special Forces (PDF)
The letter did not mention the all-out gun ban in Mexico. Since 2006 there have been some 70,000 Mexicans killed by guns. Wait, I thought you said there was a 100% gun ban in Mexico? That's correct. Did we tell you that criminals don't following the laws?
Military.com noted (PDF) that some 1,100 signatures were added to the open letter. The names of the military personnel signers are being protected due to the nature of their career.
[8] Firearms Record Breaking Sales
The gun control crowd has done nothing but rocket firearm sales like never before in U.S. recorded history. In 2012 the FBI reported that the U.S. hit an all-time record of over 19.592 Million requests for background checks for firearm purchases (Source: FBI.gov PDF).
The FBI's data shows that over the last 14 years, the Top 10 Highest Number Single Days for firearm background check requests occurred in 2012 (9 out of 10 times), and #10 record occurred in January 2013.
The FBI data also shows that the Top 10 Highest Number of Weeks for background request for firearm purchases occurred from November 5, 2012 to January 23, 2013. The top spot occurred from December 17, 2012 to December 23, 2012 with 953,613 background checks for firearms purchases (Source: FBI.gov PDF).
[9] Ideas
1. The U.S. should background check all persons in public or private firearms sales.
2. The U.S. needs to remove ridicules signs such as "gun free zones," as those are nothing but invitations to alert criminals to where they can go unchallenged.
3. The U.S. should place armed law-enforcement or appropriately trained officers at schools. Yes, this will cost money. The U.S. can limit or suspend the $3.2 Billion (2012-2013, see Point [#3] graphic) of annual tax dollars in mostly arms sales to Egypt; suspend the $206 Million (2012-2013, see Point [#3] graphic) to Libya. Instead, the U.S. can use that money to protect its own citizens (children) from being shot at by a mentally ill-deranged psychopath.
4. History and current gun ban and gun control policies in other countries (The UK and Mexico for example) have not reduced gun violence. In fact the exact opposite occurred. As law-abiding citizens were disarmed, criminals now can run free to pursue crime against citizens with their guns.
5. Politicians need to realize that passing a law will not get criminals in compliance. As some states now have mandatory release programs due to "prison overcrowding" such as California (please see article, "Part IV"). The result is that government has failed to keep citizens safe from criminals, and more criminals are being released back into the public domain to re-offend.
6. Politicians in high murder rate cities such as Chicago need to go after the gangs who commit most of the murders, not disarm their lawful citizens. Chicago has the largest gang population in USA with some 100,000 members who commit 75 to 80% city's homicides (Source: CBS PDF). The billions of dollars we send to arm the Middle-East could be used to hire law-enforcement to go after the real criminals.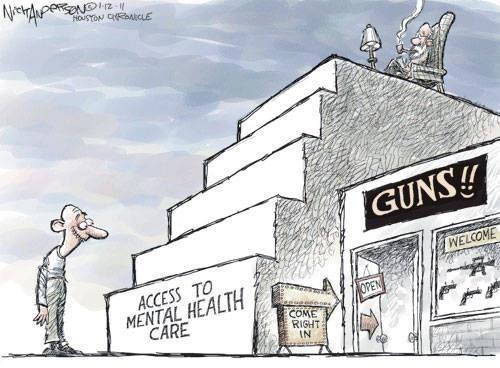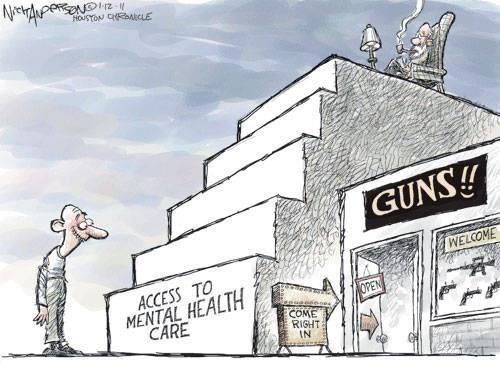 7. Addressing the issues of mentally ill. The Houston Chronicle pointed out in a political cartoon that guns were easier to get than access to mental health care.
[10] Criminals Rarely Go to Where They May Meet High Opposition
How many mass shootings have we heard at a licensed gun range? We could not find one case. As someone who conducted research in social and behavioral psychology at a top 25 university, I would argue that the likely reason is criminals will not go attack those when faced with overwhelming odds and firepower that can defeat them.
_________________________________________________________________________________
Image credits where noted by artists. Other images video credits by respectful owner(s) and may be subject to copyright.
Original Content Copyright © 2013 NetAdvisor.org® All Rights Reserved.
NetAdvisor.org® is a non-profit organization providing public education and analysis primarily on the U.S. financial markets, personal finance and analysis with a transparent look into U.S. public policy. We also perform and report on financial investigations to help protect the public interest. Read More.
_________________________________________________________________________________
Related posts: