Did Chrysler Repay Its Debts? Another Lesson in Semantics

03.26.2012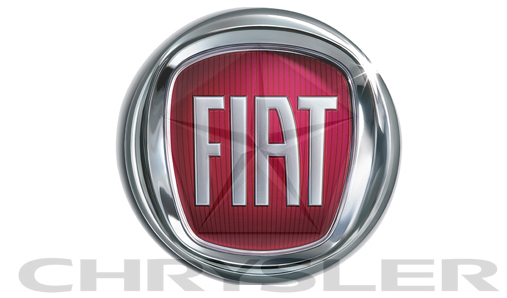 Did Chrysler Repay Its Debts? Another Lesson in Semantics
original article written by Net Advisor™
Belvidere, Illinois. On March 25, 2012 CBS 60 Minuets aired their headline report called "Resurrecting Chrysler" (PDF copy of the report) – a "status" of the Chrysler bailout. The report touted the "success" of Chrysler, how the company allegedly 'paid back their $6 Billion bailout loan eight years ahead of schedule,' and how Fiat (a foreign auto company based in Italy) 'helped take Chrysler off the government's hands in exchange for a 20% stake in the "American" auto company.' We also took a look at a few other parts in the 60 Minuets report and have challenged the data here.
"There was only one problem with the March 25, 2012 CBS 60 Minuets report "Resurrecting Chrysler" – it seems to have more holes than a golf course."


— Net Advisor™
CBS's 60 Minuets usually has many great stories, but this time, one has to question whether the old Tiffany Network is using itself to support a political agenda – and that is to make the appearance of a success story of the Obama Auto bailout?
Here is what CBS 60 Minuets reported and some facts that would question the reporting:
[1] CBS 60 Minuets Claim:
"Last year, Chrysler turned a $183 million profit and would have made a lot more if it hadn't decided to repay its $6 billion federal bailout, six years ahead of schedule" (Parr 4, PDF Report).
FACT: Chrysler borrowed $14.31 Billion ($12.81 Billion for Chrysler plus $1.5 Billion for Chrysler Financial) from the Government in its bailout program, not "$6 Billion" as CBS 60 Minuets reported.

— Source: Congressional Oversight Panel Report, DTD 01-13-2011, "An Update on TARP Support for the Domestic Automotive Industry, Page 19, Table F, single page PDF of chart below with text. Full 140 page PDF Report.
The chart also shows, "Total Lost Extinguished" of $3.488 Billion loss to the U.S. taxpayer. I guess we are not counting losses as bailout repayments to the Treasury.
[2] CBS 60 Minuets Claim:
"In the end, Marchionne and Fiat got a 20 percent stake in the brand new, slimmed down,
debt free Chrysler plus a $6 billion high interest loan from the U.S. Treasury, just for taking
the auto company off the government's hands and running it" (Page 2, parr 10 PDF).
FACT: In the beginning, Marchionne and Fiat got a 20 percent stake in Chrysler. However, as of July 21, 2011 (eight months ago) – Fiat announced it controls 55.3% equity stake in Chrysler.

— Source: Chrysler Group 2010 Sustainability Report (page 10, PDF).
CBS's 60 Minuets report regarding who had what ownership interest in Chrysler was only accurate until December 31, 2010.
FACT: With the agreement between the Obama Administration (not the tax payer), and Fiat for producing a car in America that reportedly gets 40 MPG, Fiat now has a bigger interest in Chrysler — a 58.5% controlling interest; again not the "20%" interest CBS claimed in their 60 Minuets program.


"Fiat SpA increased its ownership stake in Chrysler Group LLC to 58.5% from 53.5% on a fully diluted basis after fulfilling the last of its U.S. federally mandated requirements calling for the Italian auto maker to help Chrysler produce a car in America that gets 40 miles per gallon, Fiat and Chrysler said in statements to be issued Thursday."

— Source: Wall Street Journal, 01-05-2012 (PDF – highlight added)
[3] CBS 60 Minuets Claim:
"…the Dodge Dart, the first new compact sedan that Chrysler has produced in more than a decade. It's a slightly longer and wider version of the Alfa Romeo Giulietta, re-engineered and built in the USA. Base price just under $16,000 with 40 miles to the gallon" (page 2, parr 15 PDF).
So the Dodge Dart is really a redesigned Alfa Romeo that is supposed to a get combined 40 MPG city and highway? We'll 60 Minuets could not prove their claim, and we could not find hard data to support it. Since we knew government and money was involved, we did some digging. We found this enlightening piece of information how Chrysler (aka Fiat) allegedly got to "40 MPG" to appease the Obama Administration.
DEBATABLE CLAIM: "To be clear, the car tested was a pre-production vehicle, and Chrysler didn't specify if the test was the EPA's combined cycle used to calculate window sticker fuel economy. It's possible that the test vehicle was equipped with the new ZF-built nine-speed transmission, which isn't expected to be available at launch of the Dart. In fact, it has come to our attention that the 40 mpg rating may well be a CAFE rating, indicating a possible EPA combined score of about 32 mpg."

— Source: Kurt Ernst at Motor Authority (PDF – highlight added), 01-05-2012
What do we say, 32 MPG isn't so bad? We'll, if actual MPG is 32 verses 40 MPG that's 20% less miles per gallon than the agreement Fiat made with the Obama Administration. Looks like Fiat may have outsmarted the Obama Administration if they used a prototype equipped with technology that won't be available when the first Darts go on sale this year. The (Fiat) Dodge Dart is coincidentally produced in President Obama's home state in Belvidere, Illinois.
[4] What Did Producing a "40 MPG" Prototype Car Get Fiat?
The Obama Administration handed Fiat – FREE 5% (five percent) more of Chrysler just for developing a car in America (The 2013 Dodge Dart) that can drive (reportedly) 40 miles per gallon. Now hold on to your Prius, the Obama approved car is NOT even a hybrid! It is a 100% unleaded gasoline powered vehicle (Source: Edmunds, PDF – highlight added).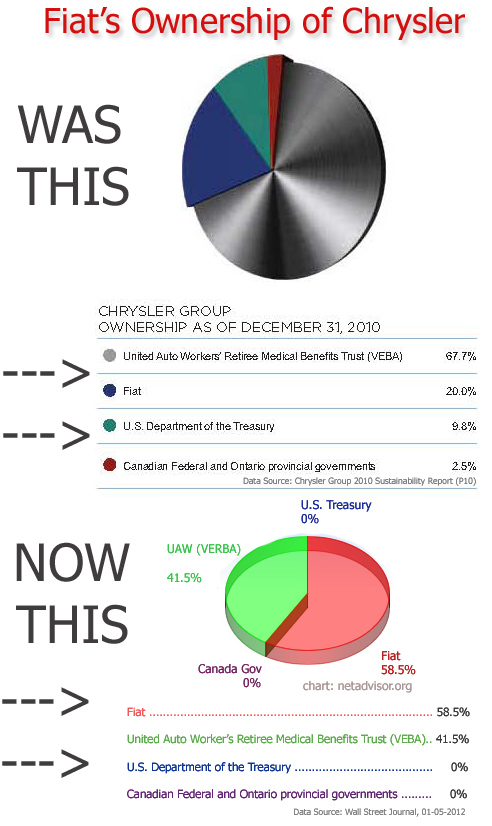 [5] What Does the Above Chart Mean?
For those who enjoy reading more than looking at pictures, what the chart depicts is that a foreign owned auto company managed to eliminate two of its shareholders (the U.S. and Canada); then managed to take a full quarter slice more (26.2% to be exact) away from the precious union retirement pie [Math: UAW 67.7% ownership – Current 41.5% ownership = -26.2% LESS UAW OWNERSHIP.]
For those in the UAW, you just lost control of the auto company. Fiat now has controlling interest and thus a majority of the votes in the company. Just so that is all clear.
[6] About the Chrysler Bankruptcy
For the record, Chrysler did not seek bankruptcy protection. President Obama forced Chrysler into bankruptcy (Source: New York Times PDF, 04-30-2009. Highlight added). The Obama Administration controlled this deal from day one. First the Administration gave the unions 67.7% of new Chrysler. The Unions owned about 0% before, clearly they got their "fair share." Actual owners in the company – the stockholders got ZERO. The stockholders were wiped out. The creditors (the Bondholders) seemed to get the hint to avoid confronting a government takeover and got about as much as the stockholders. However, some bondholders didn't seem to get the hint. According to a 2009 ABC News report:
"A leading bankruptcy attorney representing hedge funds and money managers told ABC News Saturday that Steve Rattner, the leader of the Obama administration's Auto Industry Task Force, threatened one of the firms, an investment bank, that if it continued to oppose the administration's Chrysler bankruptcy plan, the White House would use the White House press corps to destroy its reputation."

The White House denied the allegation(s).

— Source: ABC News (PDF), 05-02-2009
[7] Re-dividing the Chrysler Pie When the UAW Wasn't Looking?
Once the Obama Administration seized control over Chrysler in 2009, the Unions were made to believe that they were now in control Chrysler as Obama handed them 67.7% of the company. Fiat got a minor 20%. Not so fast UAW, what may have been left out in the company memo is that the Obama Administration made certain concessions to Fiat to allow them to eventually seize control of the company. That is exactly what has happened. Fiat now controls 58.5% of Chrysler (please see big pie charts above).
[8] Chrysler's Finances: Not Exactly Debt Free
Recall the part where 60 Minuets stated that Chrysler was debt free? (Page 2 parr 10, PDF.) We'll, here is a 2011 chart from Chrysler's full last year's earnings which seems to show some debt on the books – about $12.5 Billion worth.
[9] Obama's Forgiveness of Chrysler Debt?
Chrysler's "repayment" to the government included $551 million loss on "extinguishment of debt" (Source: Chrysler Press Release, Q4 2011, Page 1, bottom right PDF). "Extinguishment of debt is simply the removal or elimination of debt either by making payment on or settling the debt" (Source: Finance.Toolbox.com). We are still not exactly sure where the other $6.81 billion of the U.S. taxpayer bailout money went.
[10] Did the Government Give Away Chrysler?
According to Chrysler's own 2011 report, Net revenue for the year was $55.0 billion. Now multiple the lost percent ownership handed to Fiat.
– The unions losing 26.2% stake, would equate to losing $14.41 Billion (just in 2011) handed over to Fiat.

– The United States Treasury losing 9.8% stake, would equate to losing $5.39 Billion (just in 2011) handed over to Fiat.

– Canada, losing 2.5% stake, would equate to losing $1.375 Billion (just in 2011) handed over to Fiat.
Separately, in 2010 General Motors (aka Government Motors) made national television claims that it paid back its TARP (bailout) loan. This report was also covered by major media such as, but limited to Reuters.
"The U.S. Treasury Department confirmed on Wednesday that automaker General Motors Co has repaid the $4.7 billion balance in Trouble Asset Relief Program debt it owed."
This was entirely a false and misleading report. We pointed this out several times in the following reports.
[11] In Defense of 60 Minuets
60 Minuets could have taken some if not all their data based on Chrysler's 2011 Q4 Report PDF. If so, then there is an issue here.
(1) Why didn't 60 Minuets scrutinize and fully investigate the claims of Chrysler as journalists are supposed to do?
The Obama auto bailouts may all come down to semantics. Ignore data that won't get votes, and promote whatever can be spun to sound like we succeeded. The Administration seized control over the company, bypassed standard bankruptcy laws, handed the company to the unions, only to reshuffle the deck by then giving the former American owned auto company majority control to a foreign business, wiping out all investors and most of the bondholders, all in the name of saving jobs? Hopefully Chrysler (Fiat) will keep those jobs in the U.S. in the long run. GM just announced it is going to shift more production to "low cost" countries. Wonder if someone will do a televised story on that?
___________________________________________________________________________
short link to this article: http://www.netadvisor.org/?p=12744
Additional data:
Chrysler Group 2010 Sustainability Report (link) (106 pps) (8.47 MB) (PDF)
images/ graphics may be copyright, courtesy by respective owner(s).
original content copyright © 2012 NetAdvisor.org® All Rights Reserved.
NetAdvisor.org® is a non-profit organization providing public education and analysis primarily on the U.S. financial markets, personal finance and analysis with a transparent look into U.S. public policy. We also perform and report on financial investigations to help protect the public interest. Read More.
___________________________________________________________________________
Related posts: