Market Trends & What is Window Dressing?

06.29.2011
06.30.2011 update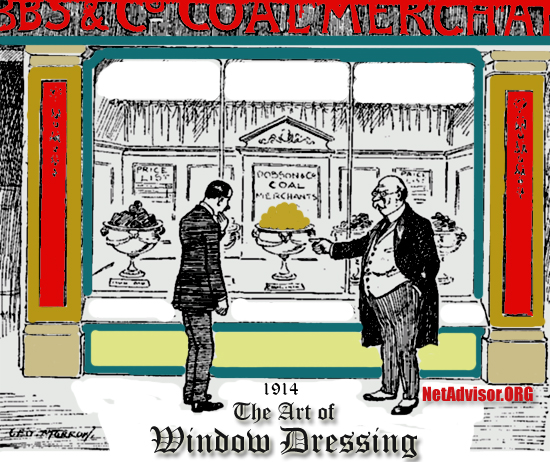 Market Trends & What is Window Dressing?
Investor Education Series written by Net Advisor™
You may have heard over the last couple weeks in the business media casually mentioning the phrase, Window Dressing.
This isn't exactly the new fad in home improvement, it's a little routine game that is often played in the stock market at the end of each quarter.
What is Window Dressing?
Window Dressing is where Mutual Fund managers buy stocks to make it look like their portfolio held the hot stocks in the last quarter and sometimes dump the losers to show they did not hold too many of those.
Mutual fund managers have to print their top portfolio holdings, sometimes everything for investors to see in their quarterly, semi-annual or annual reports.
As a result of this, stocks that did well in the past quarter tend to do even better at the end of the same quarter. This is because of fund managers buying up the winning stocks, and may be dumping the losing ones.
Window Dressing:

"A strategy used by mutual fund and portfolio managers near the year or quarter end to improve the appearance of the portfolio/fund performance before presenting it to clients or shareholders. To window dress, the fund manager will sell stocks with large losses and purchase high flying stocks near the end of the quarter. These securities are then reported as part of the fund's holdings."

— Source: Investopedia.com
Trading on Window Dressing Caution
Be careful not to get sucked in this unique trading at the last minute.
It's a little game, but if you know it happens and when it happens (quarterly), you can also SOMETIMES take advantage of the short-term momentum. This does not happen every time, but happens more often than not to have been labeled a name to it: Window Dressing. For those who have been following my #stock tweets, I first discussed this particular event on 06-21-2011.
Many times what happens on the first day of the new quarter, the same fund managers dump the stocks they just bought because the stocks are probably overpriced after the recent 1-2 week run-up. Window Dressing has been going on for decades. It may seem a little deceptive, but it is not illegal in the USA. Managers are just going with what is working at the last minute.
In Australia however, the Australian Securities and Investments Commission (ASIC) notified financial brokers arguing that window dressing "was a form of market manipulation." The ASIC also stated that those engaging in such trading practices would be subject to fines of up to AU $1 million (approximately $1,069,135 in U.S. Dollars) (Source: Sydney Morning Herald, 06-30-2011)
Trends and History: Celebrate or Sell?
The market tends to rally through the July 4th holiday, and historically during the month with fewer ups and downs.
However this year there are big economic events to watch starting Thursday June 30, 2011:
The Continuing Jobless Claims Report at 8:30AM EST and the Chicago Purchasing Managers' Index (Chicago PMI) at 9:45 EST.
On July 1st we have the Michigan Sentiment Report (9:55 AM EST) and five minutes later the ISM Report, among other reports. To top it off, next week we have non-farm pay roll and the unemployment report. These reports can move sensitive markets rapidly in any direction, especially given our current economic situation.
If the initial PMI Report is negative, that could slow or reverse the stock market rally.
Hedging Risk
I saw a lot of people buying large positions that effectively place a short on the S&P 500 Index for the month of July compared to those going long the S&P for July. Basically what this means is a ton of people were buying down-side protection in case the market tanks after these reports in July.
Some of the volume in the July 2011 PUT option contracts doubled today from all existing contracts that are still outstanding. To me this says that people are getting defensive ahead of the PMI and other major economic reports next week. I discussed this on Twitter earlier today (06-29-2011). I also stated I took hedging positions too as it seems "everyone is doing it," and noted this on twitter earlier today (Note: there was a typo in the twitter post: It should read "taking profits, not "talking profits." But I guess one can always talk to their profits too).
Why the Concern?
The concern for the market and thus the economy is that the May PMI Report was a disaster.
"The Chicago PMI dropped sharply to a reading of 56.6% in May from April's 67.6%, a sign of a weakening recovery…"

— Source: MarketWatch, 05-31-2011
The May PMI report was so bad, the Dow tanked -279 points on 06-01-2011. The Dow continued to fall with a total of -499 points until a brief rebound on 06-09-2011, where the market was up +75 points that day (06-09-2011).
The next day, the Dow fell again Friday 06-10-2011 by -172; traded flat +1 on 6-13-2011 (Monday), only to plunge again -178 the following day (06-14-2011).
So yes, people have good reason to hedge downside risk before the PMI and next week's economic reports.
If the report is better than the May PMI, maybe the rally is on again – at least perhaps until next week's big reports.
Please keep in mind that opinions can change as market conditions and information changes without notice.
NetAdvisor.org is a non-profit education media company.
06.30.2011 UPDATE:
The June 30, 2011 Chicago PMI Report came in better then expected at 61.1 topping economists' expectations for a reading of 54. (Official Report – PDF) (Tweet). The Dow rose +139 in intra-day trading on the news. Please keep in mind that we may not update every report here. Follow us on twitter for live posts.
__________________________________________________________________________
Financial Disclosure: At time of original post, Net Advisor™ and or clients are currently short the S&P 500 Index via put options as also mentioned in this report.
Image: THE ART OF WINDOW-DRESSING. Punch, or the London Charivari, Vol. 146, June 24, 1914, by Various. Image modified and color enhanced by NetAdvisor.org Staff, Copyright © 2011
Original Content Copyright © 2011 Net Advisor™
Revised Copyright ©2014 NetAdvisor.org® All Rights Reserved.
NetAdvisor.org® is a non-profit organization providing public education and analysis primarily on the U.S. financial markets, personal finance and analysis with a transparent look into U.S. public policy. We also perform and report on financial investigations to help protect the public interest. Read More.
__________________________________________________________________________
Related posts: