Obama's Limo Gets Stuck in Ireland (Video)

05.23.2011 original article (Ireland 2011 visit)
03.22.2012 updated broken link with original PDF
03.20.2013 Obama's Limo breaks down during Israel visit (page bottom)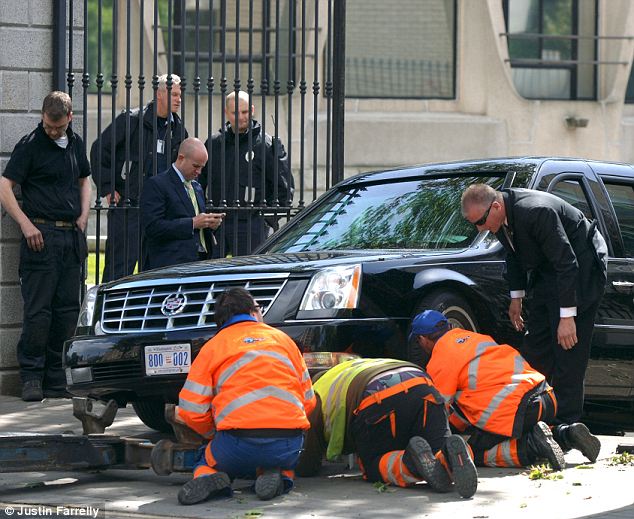 Obama's Limo Gets Stuck in Ireland (Video)
written by Net Advisor™
President Obama's armored Limousine called "The Beast" got stuck existing a high driveway ramp today leaving U.S. Embassy in Ireland.
Video: Short Version (0:23)

Video: Full Version (6:40)

The President was in Ireland to negotiate trade with a country that has no money and to visit his "family roots."
Ireland, like Greece, Italy, Portugal and Spain with their great food, beverages and culture are facing severe financial issues. We first discussed the Greek and related European debt issues about a year ago.
Obama also enjoyed guzzling a pint of beer on the job (lol) – a traditional task called a "right of passage" for tourists visiting Ireland. Some past President's have also followed this tradition except President Bush who no longer drinks alcohol. Former Presidents Reagan and Clinton didn't finish their beer on their Presidential visits. However this President got the job done in reportedly four slurps (PDF).
March 20, 2013 Update:
On 03-20-2013, President Obama's Limo broke down during a visit to Israel after the driver apparently put gasoline in the diesel-driven engine.
__________________________________________________________________________
Images/ video credit as noted by respective owners
Article Copyright © 2011-2012 NetAdvisor™
Revised Copyright © 2013 NetAdvisor.org®
NetAdvisor.org® is a non-profit organization providing public education and analysis primarily on the U.S. financial markets, personal finance and analysis with a transparent look into U.S. public policy. We also perform and report on financial investigations to help protect the public interest. Read More.
__________________________________________________________________________
Related posts: