Los Angeles Mayor Hit with Record Fine in Apparent Ethics Scandal

04.04.2011 original publish date
09.04.2012 updated broken and missing links including with original PDF files.
Related: Your Government Financial News:  (page bottom)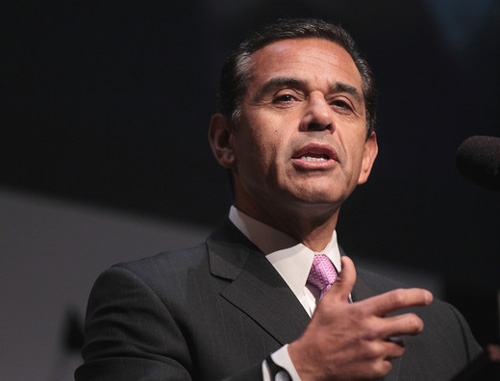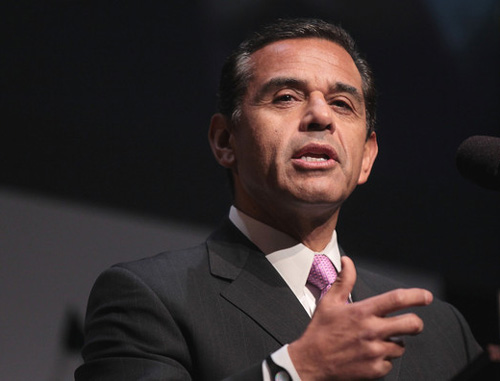 Los Angeles Mayor Hit with Record Fine in Apparent Ethics Scandal

original article written by Net Advisor™

Los Angeles, California. L.A. Democratic Mayor Antonio Villaraigosa agreed to pay a record fine of nearly $42,000 for accepting free tickets to various sporting and entertainment events for failing to reporting them as gifts (Source: Los Angeles Times). There were a total of 33 counts of ethics violations named by the California Fair Political Practices Commission and the Los Angeles City Ethics Commission against the mayor (Source: Denver Post).
Los Angeles talk radio KFI discussed (on 04-01-2011 PDF) whether there was a Quid Pro Quo situation where in some cases KFI stated the mayor allegedly gave permit waivers to organizations hosting major L.A. events in exchange for pricy tickets to such events. Permit wavers would allow organizations to not have to pay for extra police, security, overtime, or clean up prior to, during or after the events. These costs would be burdened by tax payers of the city of Los Angeles.
Some of the free ticket gift ethics violations Villaraigosa received were from the Academy of Motion Picture Arts and Sciences, the Academy of Television Arts and Sciences, Anschutz Entertainment Group (owner of Staples Center), and the National Academy of Recording Arts and Sciences (Source: CBS, PDF).
Quid Pro Quo
Villaraigosa was elected mayor of Los Angeles in 2005. In his early first term, Villaraigosa apparently received an e-mail that explicitly stated that the mayor "could not legally accept a free ticket to a Lakers game unless he showed up with a "proclamation" or a city document honoring a group or individual, or performed some other "official role."
The Times also pointed out that,
"Villaraigosa has gone to free concerts and games at both Staples and L.A. Live, AEG's entertainment complex. AEG is now seeking the city's assistance with the development of a football stadium. That project would involve the reconstruction of part of the L.A. Convention Center and require the city to issue $350 million in bonds."
— Source: Los Angeles Times
Background
Antonio Villaraigosa, whose real birth name is Antonio Villar, dropped out of high school but later returned to complete it. After dropping out of UCLA in the 1970's, Villaraigosa returned to graduate from UCLA with a bachelor's degree and obtained a law degree from People's College of Law. However after four attempts, he never passed the State Bar Exam, thus cannot be called nor practice as an attorney.
While first attending UCLA, Villaraigosa went by the name "Tony Villar" and was the leader of the controversial organization, MEChA.
Villaraigosa recently went through a divorce which was finalized in 2010. He was married to his wife Corina of 20 years. The Mayor reportedly had an affair with Mirthala Salinas who worked with the Los Angeles based Spanish broadcasting channel, Telemundo.
Not Exactly a Rookie Politician
"Villaraigosa has been in office in one capacity or another for almost 20 years. He has received ethics training regarding the rules of gift disclosure on numerous occasions over the span of his career…"

— Source: Fox News Latino, 04-01-2011
A Look Into Los Angeles Fiscal Management & Deficit Spending
Like many states facing a decline in tax revenues, and mismanaged by overspending by government officials, Los Angeles is facing a $1 Billion deficit over the next two years (Source: Los Angeles Mayor's Office/ Press Release). In April 2010, Moody's Investors Service downgraded $3.2 Billion of Los Angeles bonds (city issued debt) a notch to Aa3 from Aa2 (Source: Bloomberg).
The Deficit
The 2010-2011 budget by the mayor included $458 Million deficit. There have been some minor cut backs but that hasn't stopped deficit spending in Los Angeles. The mayor even acknowledged that "the cost of public employee health and pension benefits continues to grow" [Source: Mayor's 2010-2011 Budget, Page 6 of 44 pages (PDF)].
In fact, the costs of government funded healthcare and pension system for Los Angeles public employees was projected to grow 11.74% (rounded up) from $653.4 Million for FY 2009-10 to $730.1 Million for FY 2010-11  [Source: Mayor's 2010-2011 Budget, Page 21 (PDF)]. For 2012, Los Angeles is looking at another $350 Million deficit (Source: CBS).
Enter Obama Stimulus in Los Angeles
The Los Angeles deficit continues to grow despite being awarded $592 million from Obama's federal stimulus program (ARRA). So L.A. is getting borrowed stimulus money from the federal government to help them spend more money, not save the city money. The Obama stimulus projects in Los Angeles include (partial list):
$118 million for "shovel-ready" repair to streets and ground breaking for

one

bridge;

$100 million toward "foreclosure prevention;"

$60.2 million to LA's Department of Water and Power (DWP) for "increase energy efficiency while decreasing energy costs," and

$42 million for summer youth job training and dislocated worker program.

— Source: Mayor's 2010-2011 Budget, Page 16 (single page PDF) (Full Report: 44 page PDF)
The Obama Administration launched "Foreclosure Prevention" programs in 2009 with $75 Billion of federal tax-dollars to help bail-out those who took loans out that they could not afford. The result of Obama's "Foreclosure Prevention" programs has been a costly waste of tax-payer money (Sources: Wall Street Journal, Washington Post). Just recently, the House voted 252-170 to end this housing bail-out program because it did not do what Obama has hoped (Source: Smart Money).
Next, as mentioned above, the Los Angeles Department of Water and Power (DWP) received over $60 million from the Obama "stimulus" that was to include "decreasing energy costs." The result of Obama's energy efficiency stimulus in Los Angeles? In 2010 the DWP will increase residential energy costs by 37% over four years.
"The Los Angeles Department of Water and Power is planning to boost the electricity bills of its customers by 37% over the next four years as part of its effort to cover steadily rising costs."

— Source: Los Angeles Times, 03-26-2010
We'll, let's pretend that the DWP is successful at becoming more energy efficient. This leads to a question:
Question: When ever, has a utility company, who has no competition, announced that they are permanently decreasing the amount of money they charge for electricity to citizens after a rate increase? Do you really think in four years the DWP will revert rates back prior to the 37% rate increase, or even make rates lower than that with new "energy efficiency?"
[polldaddy poll=4847333]
Education in Question
K-12 Education in Los Angeles in amongst the worst in the nation. A 2006 study found that only 44.2% of Los Angeles area K-12 students graduate from high school. Thus 55.8% of high school students do not graduate (Source: USA Today). The numbers are actually worse as schools don't count the number of drop outs in junior high (middle-school); they only count drop outs after kids enter high-school (Source: Washington Post).
Mayor's Entertainment & Other Events
Los Angeles Mayor Villaraigosa reportedly attended over 3,000 events from 2005-2010.

— Source: Denver Post, 04-01-2011 (PDF – highlight added)
That works out to be an average of some 600 events a year. We will give the Mayor the benefit of the doubt and say a number of events were probably for official business. However, at the rate of 600 events per year, that just seems to be a lot of time for a well-paid official to be spending at various entertainment and other events when the city has serious deficit issues, unemployment running 12.5%, and has one of the worst education systems in the country.
Not Exactly Pay for Performance
Despite the huge financial challenges in Los Angeles, Mayor Villaraigosa is paid far more than what a member of the U.S. House and Senate make in a year. For 2010 and 2011, "the base pay for House and Senate lawmakers is $174,000 year" (Source: The Hill.com). Los Angeles Mayor Villaraigosa took a 12% pay cut yet still earns $223,000 a year (Source: Los Angeles Times). This works out to be about 22% more than the base pay of a member of the U.S. House of Representatives or the U.S. Senate.
The people of Los Angles should be outraged of the fiscal deficit spending, poor education ranking, the increased costs to residences for utilities, and now the ethical violations of the L.A. mayor. Local residences may want to pay closer attention to how their tax money is spent, and the performance of their elected officials. Villaraigosa was re-elected for a second term in 2009.
View "EXHIBIT I IN SUPPORT OF STIPULATION, DECISION AND ORDER" (FPPC NO. 10/750) (CEC Case No. 11-02) against Los Angeles Mayor Villaraigosa (10 page PDF).
__________________________________________________________________________
Your Government Financial News:
We moved the updated article here:
Read how NetAdvisor™ balanced California's state budget AND created $1.336 Billion surplus, all with NO personal tax increase, NO corporate income tax increase, NO sales tax increase, NO DMV License fee tax increase. Read it Here – 27 pages with graphs and other things to look at!)
__________________________________________________________________________
Please report broken or missing links.
short link: https://www.netadvisor.org/?p=8804
Obama/Villaraigosa image by Jae C. Hong/AP. This and other image may be © respective owner(s)
Copyright © 2011 NetAdvisor™, updates & revised copyright © 2012 NetAdvisor.org®
NetAdvisor.org® is a non-profit organization providing public education and analysis primarily on the U.S. financial markets, personal finance and analysis with a transparent look into U.S. public policy. We also perform and report on financial investigations to help protect the public interest. Read More.
__________________________________________________________________________
Related posts: