Police Give Criminals List of Free Crimes

06.13.2010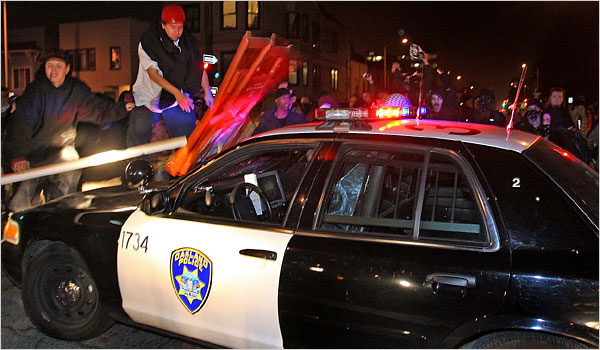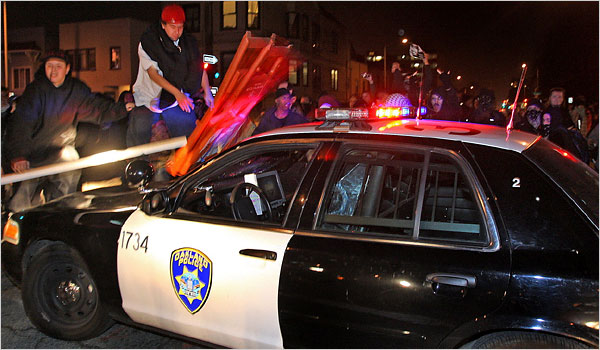 Police Give Criminals List of Free Crimes
original article written by Net Advisor™
Oakland, California. Due to reported layoffs, Oakland's police chief has threatened that he will not send police to respond to a list of 44 particular crimes committed in Oakland. Instead, the police chief said not to call police, but should report the crimes "on-line." [Source: NBC News, Bay Area (CA)]
Some of those crimes that Oakland, California police will not respond to are: (quote)
burglary
theft
embezzlement
grand theft
grand theft:dog
identity theft
false information to peace officer
required to register as sex or arson offender
dump waste or offensive matter
discard appliance with lock
loud music
possess forged notes
pass fictitious check
obtain money by false voucher
fraudulent use of access cards
stolen license plate
embezzlement by an employee (over $ 400)
extortion
attempted extortion
false personification of other
injure telephone/ power line
interfere with power line
unauthorized cable tv connection
vandalism
administer/expose poison to another's
[Source: NBC News, Bay Area (CA)]
Like many municipalities across the country, and especially, California, they are all facing budget problems due to government overspending, fiscal mismanagement and low tax revenues from depressed home prices, and jobs losses.
According to NBC News, "In the last five years, the (Oakland, CA) police budget — along with the fire department budget — have amount to 75 percent of the general fund."
image: Anthony Batts, as Long Beach PD officer
(image source: Signal Tribune)
Anthony Batts is a 30 year veteran of the Long Beach police department, and served the last 7 years as chief before coming to serve as Oakland's police chief. (Sources: SF Gate and Signal Tribune)
If Oakland had any guts, they would send the Chief a message that you can't hold city government or the people hostage in order to get your demands, and then fire Anthony Batts if he fails to "protect and serve," thus breaches his sworn duty as a police officer to the people of Oakland.
___________________________________________________________________________
image(s) copyright, Signal Tribune and or by respective owner(s)
Copyright © 2010 NetAdvisor™
___________________________________________________________________________
Related posts: