Real Estate Market Shows Mixed Signs

06.07.2010 original publish date
10.26.2010 repaired broken links
03.18.2011 repaired broken links / cosmetic clean-up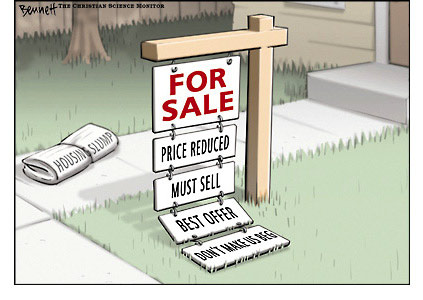 Real Estate Market Shows Mixed Signs
original article written by Net Advisor™
On June 2, 2010, a report came out suggesting that pending home sales are up and some concluded that the housing market is improving.
Keep in mind that PENDING home sales does not mean actual home sales. The reason for pending home sales was due to consumers rushing in to get the Obama home buyer tax credit.
The "increase in signed contracts for homes was due partly to a rush to meet a tax credit that expired in April."

— Source: MS-NBC
And there you have it. People were trying to collect money from government helping them buy a house. This was not due to a sudden surge of buyers rich with cash, nor did the move have anything to do with an argument in favor of greater future home sales, or home prices stabilizing, let alone home prices going up sharply.
If the government was not paying people to buy homes, would pending home contracts really have shown an increase? And how many of these homes are being flipped by investors is a bigger question?
The Real Picture
The facts are that even if pending contracts are up, delinquencies and foreclosures are getting worse not better. Two weeks prior to this report showed that home foreclosures hit a record high (Source: Market Watch), and 1 out of 10 people have missed at least one house payment between January through March 2010 (Source: CBS News).
"More than 10 percent (1 out of 10) of homeowners had missed at least one mortgage payment in the January-March period, the Mortgage Bankers Association said Wednesday (05-19-2010). That number was up from 9.5 percent in the fourth quarter of last year and 9.1 percent a year earlier."

— Source: CBS News
It would be tough to argue that anything in this newest housing data suggests anything stable in the housing market. The May jobs report would suggest that more people out of work means that many more homes are not going to get too many on-time payments. Thus foreclosures are likely to increase, and home values are likely to decrease in affected markets.
According to Reuters, the reality is that home loan demand has plunged to a 13 year low. So what changed in two weeks to up signed contracts on homes? Again, we find that is was the end of the Obama home tax credit.
"Mortgage purchase applications sank 27.1 percent to the lowest level since May 1997 in the absence of the popular government support, the group said. U.S. housing groped for footing after more than a year of home buyer tax credits worth up to $8,000 expired on April 30."

— Source: Reuters
Unless the government wants to continue adding to the deficit and helping people buy homes, it will be interesting to see how the housing data is reflected without any federal stimulus.
My prediction is that as long as we have continued high unemployment, and those people own homes, and other assets on borrowed money, that will have a aversive impact on those assets.
__________________________________________________________________________
short link: http://www.netadvisor.org/?p=6274
Image(s)/ graphics © respective owner(s)
Copyright © 2010, 2011 Net Advisor™
Original article content, Revised Copyright © 2015 NetAdvisor.org® All Rights Reserved.
NetAdvisor.org® is a non-profit organization providing public education and analysis primarily on the U.S. financial markets, personal finance and analysis with a transparent look into U.S. public policy. We also perform and report on financial investigations to help protect the public interest. Read More.
__________________________________________________________________________
Related posts: