Shhhhhh! (Not Everyone is Paying Back TARP)

12.15.2009
03.16.2012 updated broken gov links with status report (chart, page bottom) on Auto bailouts.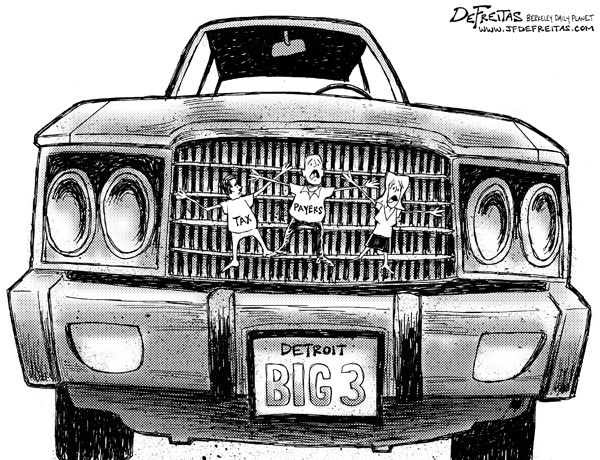 Shhhhhh! (Not Everyone is Paying Back TARP)
original article written by Net Advisor™
With all the talk about how the government is getting paid back TARP money with interest, and patting them self on their back – take notice what is not being talked about: Such as the $79 billion dumped into GM and Chrysler, and the approximately $85 billion for AIG. (Sources: Newsweek & Wall Street Journal)
Chrysler Motors
Over half of the money the U.S. government lent to Chrysler is not expected to ever be paid back.
"Of the $10.5 billion currently owed by Chrysler, $5.4 billion is "highly unlikely to be recovered."

Not So Fast Speedy IPO
Government Motors (the new GM) is way overly optimistic to think that they will make a return (profit) on that huge debt given in exchange of control of General Motors.
The Congressional Oversight Panel report found that in order for tax payers to beak even on the $50 billion loaned to GM, that GM's future stock value would have to climb significantly higher than its best level in April 2008.

"…Chrysler and GM would need to have a market capitalization of $54.8 billion and $66.9 billion, respectively, for Treasury to earn enough on the sale of its equity to break even."

— Source:  GAO Report on TARP, Page 26 of 41 pps. (GAO 10-151, Nov 2009) (PDF)
GM would have to grow in terms of market capitalization ("Market Cap") of nearly half the current size of Toyota, or twice the size of Ford (where neither Ford or Toyota did not require any government bailouts). (Market Cap based on 07-14-2009's closing prices.)
"New GM will have to achieve a capitalization that is higher than was ever achieved by Old GM if taxpayers are to break even…"


— Source: Bloomberg (PDF, highlight added)
GMAC, General Motors auto financing arm is also sitting on $12.5 billion in debt to the tax payer, almost double the entire current market value of GM, according to CFRB.
Government is also not discussing or making big political speeches about how well other bailouts are going such as AIG, Fannie Mae, Freddie Mac, GNMA, FHA, the FED's balance sheet or the banking problems which are still growing against the FDIC. All of which the U.S. government et al., has committed as much as $11 Trillion toward bailouts. That is more than 15 times the size of TARP ($700 Billion x 15 = $10.5 Trillion), or about the size of the entire U.S. National Debt since 1835.
Related articles:
Taxpayers will lose on auto bailouts (CNN)
UPDATE:
According to the Government's own math,  the auto industry (GM-Chrysler related bailouts) still owe the Treasury $51.459 Billion (Source: Page 19 Table F "Current State of Government's Investments" (single page PDF of chart below with text) (See the Full 140 page PDF Report).
__________________________________________________________________________
Image © respective owner(s)
Copyright © 2009 NetAdvisor™ revised with updates © 2012 NetAdvisor.org™
Legal Disclaimer
__________________________________________________________________________
Related posts: