Cash for Clunkers Part II: Too Big to Run?

09.03.2009
11.05.2010 repaired broken links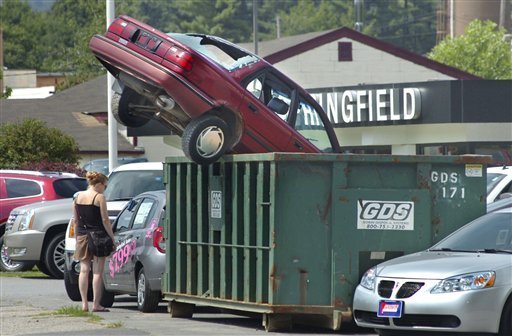 Cash for Clunkers Part II: Too Big to Run?
original article written by Net Advisor™
It was only a few weeks ago and the excitement of getting taxpayers to help one buy a more "Green Car" got the public to run out and buy a car.
The program deemed a success by the Obama Administration, did inspire auto sales, although most of it was foreign car sales.
The "Cash for Clunkers" program was supposed to end in 3 months, not 3 weeks.
But the government is having problems with the program. They don't know if there is enough money to fund it. Dealers are complaining that they are not getting their rebates timely, and are absorbing these short term losses until the government sends them a rebate check for qualifying cars.
Auto Dealers have to complete a 13 page application to see if they qualify for the rebate they already gave to customers. Only some bureaucrat could take what seems to be a simple idea and make it complicated, time consuming and expensive.
The government has reportedly paid dealers only $145 million or about 7 percent of the total claims. There is $3 billion that was allocated for this program.
The Obama Administration came to the rescue by hiring up to 1100 new government workers to simply process rebate checks for dealers. I just hope these are short term government workers and not salaried workers with government benefits, heath care, a retirement pension, all which tax payers are paying on top of the rebates we are financing by borrowing against the future. Now how much is this "Cash for Clunkers" program REALLY going to cost tax payers?
Here is the funny part:
Transportation Secretary Ray LaHood said the Cash for Clunkers program has been "a lifeline to the automobile industry, jump starting a major sector of the economy and putting people back to work."

— (Source: Bloomberg-Businessweek)
Well, I'm not sure who are the "people getting back to work," when the program ends Monday? Is the government going to fire all these workers Tuesday?
Critics argue that what this program is doing is creating short term demand based on incentives, but longer term car sales will drop back to previous levels. And all these new car buyers won't be buying cars next year. There are also questions if this program really is a good way to reduce carbon emissions.
Is Cash for Clunkers Really an Environmental Saver?
A recent study at the University of California, Berkeley suggests Cash for Clunkers program is a very expensive way to reduce carbon emissions.
Too Big to Run?
Now, processing $3500-$4500 rebate checks for some 457,000 transactions seems to be too difficult of a task for the government, and they want to run a health insurance program for at least 45 million people if not available to the entire country?
As if the DOT didn't have an existing staff to do this job, they created an entire new department, and still can't seem to manage a rebate program.
So the government announced today they are ending the "Cash for Clunkers" program effective Monday, August 24, 2009 at 8:00 PM EST.
Apparently this 3 week old program has become too big, is disorganized, and is too difficult to run. Are you ready for that government ran health care program now?
First article in this series can be found here:
Tax Dollars Help Foreign Car Sales in U.S.'s "Cash for Clunkers"
__________________________________________________________________________
short link: http://www.netadvisor.org/?p=5940
Image may be copyright by respective owner.
Copyright © 2009 Net Advisor™
__________________________________________________________________________
Related posts: